Build an eCommerce app with the magic of no-code
Join the no-code revolution and build the perfect eCommerce app with Mowico. It's quick, easy, and costs far less than you think. Got an hour? It's free to try for 14 days!
Start My Free Trial
*No credit card required.
Why do you need a mobile app?
Around 90% of your traffic comes from mobile devices, yet mobile-friendly websites don't convert enough. Here are proven results from eCommerce mobile apps built with Mowico.
3X
Higher Conversion Rates
22%
Reduced Marketing Costs
Build your eCommerce app in 3 easy steps
1.Connect
Connect to your eCommerce platform with a just couple of clicks. Mowico is compatible with any eCommerce platform!
2.Design
Drag-and-drop designer allows you to add and remove components to your eCommerce app effortlessly.
3.Publish
Test your eCommerce app on all your devices, and then publish on the App Store and Google Play Store.
See how it works
Every e-commerce app feature you need is here
We developed Mowico for the needs of an e-commerce business, so you can customise your e-commerce app with the useful features you need. No unnecessary jumble; only e-commerce magic!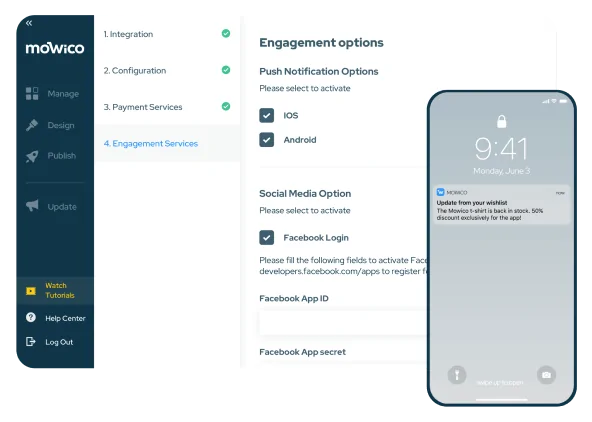 Push notifications and in-app messaging
One of the most effective ways to get your customers to come back to your store is to use push notifications. Keep them interested and coming back for more!
Multilingual apps
Build a multilingual e-commerce app to stay globally relevant and accessible.
IOS & Android
You don't have to build separate apps for iOS and Android. Mowico Wizard makes your app compatible for both operating systems. The moment you finish building your app, it's ready to launch in on stores.
See all features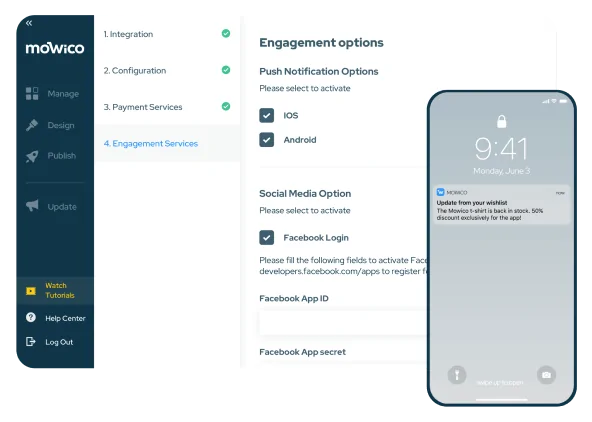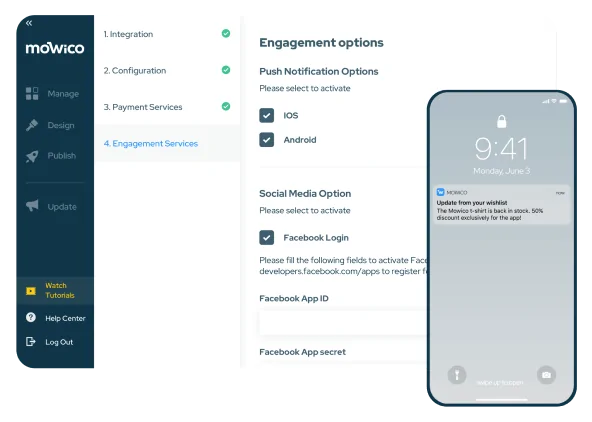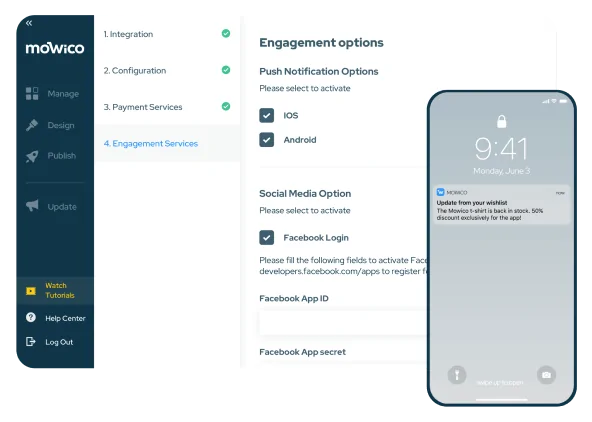 Seamlessly integrate with any eCommerce platform & payment system effortlessly.
Meet your revenue stream
Mobile eCommerce apps have 3X higher conversion rates than websites. Let's carry your business to the next level with no-code magic.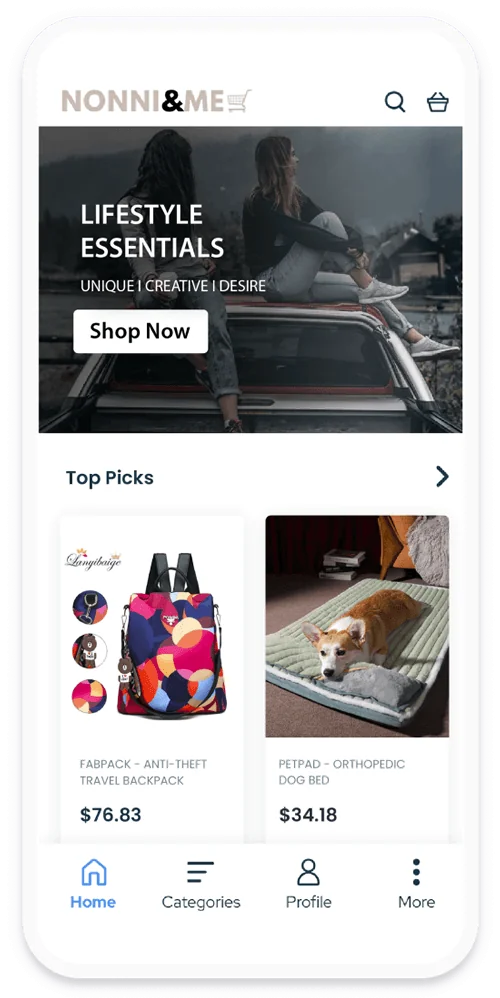 "This app has great features. I'm able to make my store's app look professional easily. The Mowico team was great at helping me and was super nice! I'd recommend this to any user of Shopify."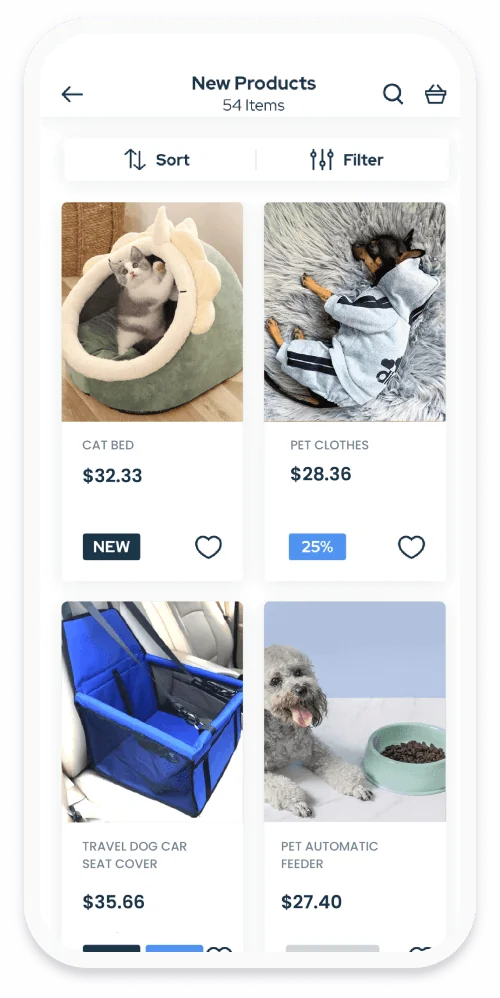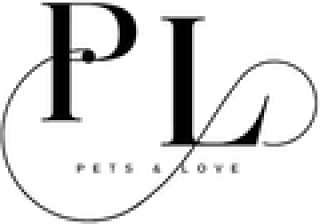 ``Fantastic-looking app and very simple and easy to use! The customer service that we received was fantastic and the team at Mowico was very flexible to our needs. Thanks, guys.``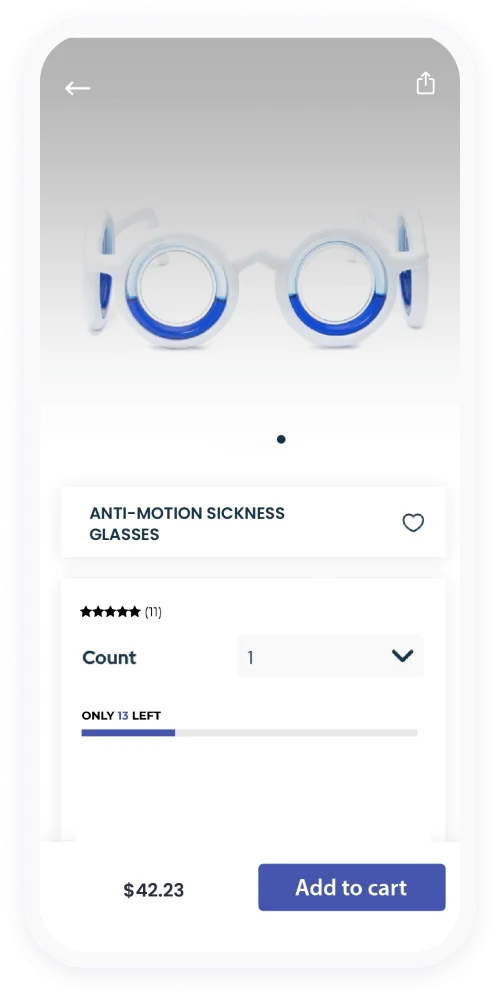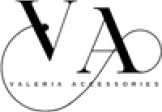 ``Working with such a team has been a great experience. They are very responsive and have a wealth of technical expertise with mobile apps and integrating them with your Shopify store. This ensures your customers are not frustrated and risk losing a sale.``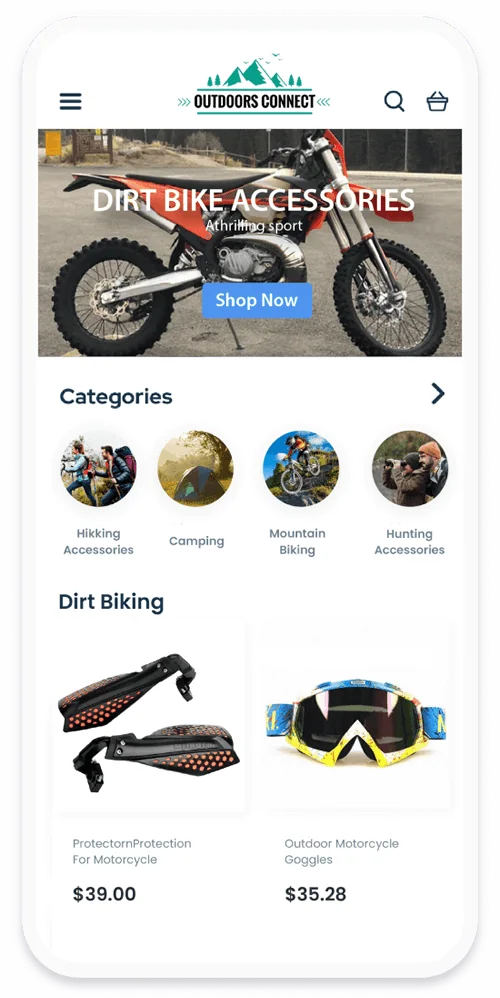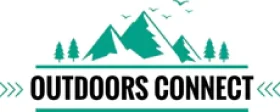 ``Great team to work with, looking forward to our app getting published. Got lots of experience in mobile sales management during my journey with the Mowico team.``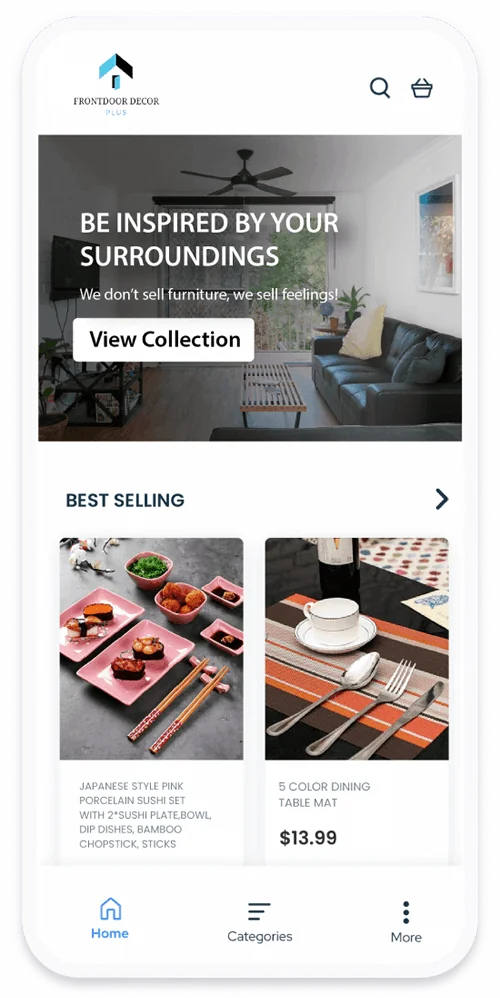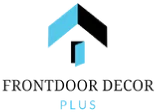 "Great team to work with, would highly recommend them. This app makes it easy for any business to have their own mobile native app on Google Play Store and Apple App Store"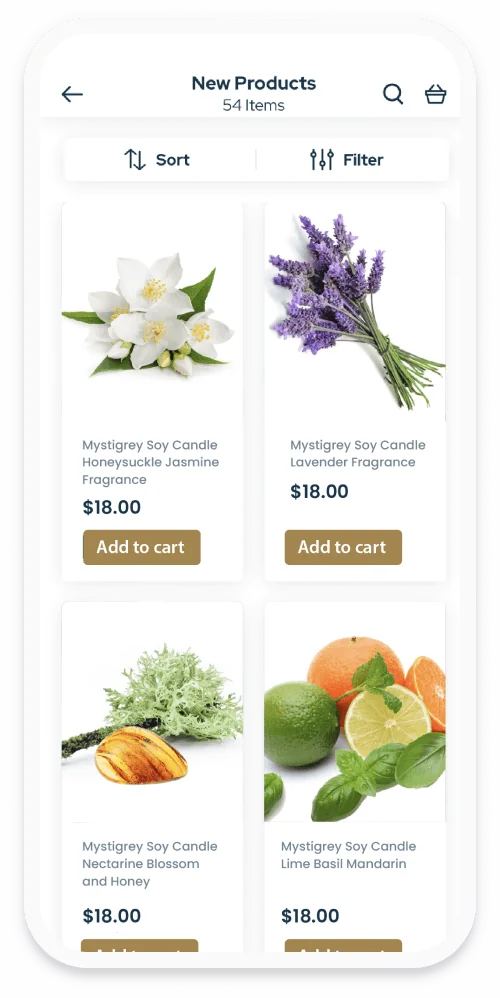 "Our first experience with native apps started with mowico and the experience was great. Mowico team is very helpful and alwas with you whenever you need them"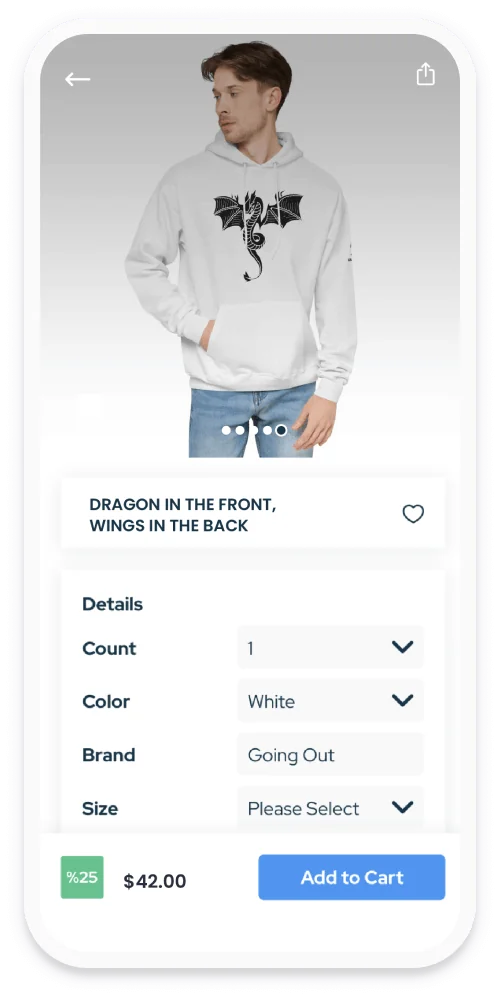 ``Integrations with push notification were great. Now I can send custom notifications to my customers. I have doubled my sales in 3 weeks.``
FAQ
What is Mowico used for?
We turn your eCommerce business into no-code native mobile apps; with limitless components, design options, and third-party integrations. With the help of Mowico app builder, you can easily build app both for iOS and Android phone users.
Who are the typical users of Mowico?
Mowico helps all types of eCommerce businesses, digital marketing agencies and freelance app developers.
Can I request for a free demo?
Which eCommerce platforms does Mowico support?
Mowico can be integrated with any eCommerce platform, or with your custom infrastructure. Your data will automatically be ingested with Mowico's fully integrated structure. Learn more about entire supported platforms;  
https://mowico.com/integrations/
I do not have an eCommerce website. Can I still use Mowico platform to build a mobile app?
Unfortunately, you can not. First, you should start an eCommerce business. Then you need to integrate your eCommerce platform into Mowico platform, in order to see how your mobile app would look like. We recommend you book a demo session and understand how Mowico helps eCommerce business to boost sales.
How can I book a demo / schedule a meeting?
You can book a demo simply by filling out the form at this link; https://mowico.com/book-a-demo.
Then, our mobile app experts will reach out to you shortly.
How can I build my App with Mowico?
You can build your app seamlessly in 60 minutes. Connect your store, design with the drag & drop feature, enjoy live preview on mobile and go live. Check out how Mowico works for more details:
https://mowico.com/how-its-works/
What level of support does Mowico offer?
You can contact Mowico on various platforms to quickly get help when needed: Chat, FAQs, Email/Help Desk, and Phone Support.
What are the mobile app features that Mowico provides? Where can I find all the features?
The features that Mowico provide include; Push Notifications, Loyalty Points, Gift Card, Fast Checkout, Force Login, Multiple Languages, Multiple Currencies, and Wishlist.We offer all the features you need for a successful mobile app and release tens of new features each month to help you stay ahead of industry shifts. Any features can be added to a Mowico app. If you are in need of a different one, our technical team is always ready to support you in its implementation. These previously implemented custom features can be exemplified as Augmented Reality, Roomvo Visualizer. You can see all the features that Mowico provides on the wizard platform 'manage' section.
What is Mowico's cancellation policy?
Mowico offers both monthly and annual subscription plans. Please contact our customer support team if you would like to cancel your subscription to Mowico App Builder.
What is your pricing policy?
Does Mowico support mobile devices?
Yes, it does. It enables you to share your products on both Android and iOS mobile devices
What other tools does Mowico integrate with?
Mowico can be integrated with any third-party tools and eCommerce plugins. Top preferred tools include Google Analytics, Firebase, Judge.me, Recharge, Growave, Smile.io, Flits, Langify and Roomvo. Learn more about integrations: https://mowico.com/integrations/Please contact our customer success team regarding your integration requests.
What languages does Mowico support?
Mowico offers 32 languages bu default and you can present your mobile application in any language you wish. You can also add the language you choose is not listed.
Which payment gateways does your Mowico Mobile App support?
Mowico offers any payment option via the 'hybrid checkout' feature. As Mowico, we provide a few payment options in default to our partners, such as; Paypal, Stripe, PayU, Iyzico, etc.Learn more about the payment platforms and the hybrid checkout feature:  https://mowico.com/features/
Can I start using Mowico immediately?
Yes, you can. Once you fill out our free trial form, you will receive a welcome e-mail asking you to set a password for your Mowico account. Our customer support team will contact you.
In addition to this, you can follow the steps summarized in the link: https://mowico.com/how-it-works/ and for any further question you can contact our specialised customer success team.
Can I make changes on my Mowico Mobile App design after it goes live?/ Can I preview changes I have done on my live app?
Yes, you can, once you publish your app, from the Mowico Wizard Panel, you can update/ make any changes to it.
How do I publish my mobile app?
Once you set up your Google Play Store and Apple App Store developer accounts, grant access to the Mowico team to get your mobile app officially published. Do you need more details? Read this guide: https://mowico.com/help/publishing-your-app
Do I need to give access to Mowico on App Stores?
Yes, due to App stores' regulations, Mowico needs access to publish your mobile app. We kindly request you to share access with us on App stores.
Can I login to my Mowico account using my mobile device?
Yes, you can log in to the Mowico platform from your mobile phone and tablet. To engage easily with Mowico App Builder features, design components, and publish your mobile app well, we highly recommend you experience Mowico App Builder on your desktop.
Can I design my mobile app on my mobile device?
Yes, technically, you can design your mobile app from your mobile devices but we highly recommend you use your desktop to make this process more simple and easier.
Do Mowico mobile apps have push notifications and in-app messaging features?
Yes but, we do not showcase these features for our demo users at the moment. If you decide to purchase a Mowico license, we ask you to open a Google Firebase account where you can manage all of your push notifications and in-app messaging settings manually.
Can I monitor my own mobile app statistics?
Is it possible to monetize my mobile app?
Yes, you can use various tools including Google AdMob to monetize your mobile app. Technically, Mowico can integrate with any third-party solution.
Please contact our customer success team to initiate.
My e-commerce platform only allows native checkout. Do you have a feature which addresses this issue?
Yes, we do have a feature called 'hybrid checkout' that allows your customers to complete the necessary checkout actions just like your site with web view technology.
Do I need to upload my product data in Mowico, or my e-commerce platform is enough?
No, you do not need to upload your product data to the Mowico platform. Mowico pulls all the product data directly from your eCommerce platform, so all we need to do is to complete integration between both platforms by connecting your store.https://mowico.com/help/how-to-integrate-my-ecommerce-store/
Can I change the design of mobile app components?
No, at this point, you can only use the components provided by default through the Mowico platform. On the other hand, you can add any component you want by using the "Custom Component" feature. If you need to modify Mowico design components, please contact your account manager.Learn more about the Custom Component: https://mowico.com/help/custom-components/
Is it free to open developer accounts for Apple Appstore and Google Play Store?
No, you need to have developer accounts to publish your app in Apple Appstore ($99/year) and Android Play Store ($25/one time).
See all FAQ