Once your store is integrated, you need to choose basic features in the "Features and Integrations" section, and third party integrations, which are available in the Growth and Enterprise plans, in parallel.
Features & Integrations
In this section, you can start selecting the features of your mobile app.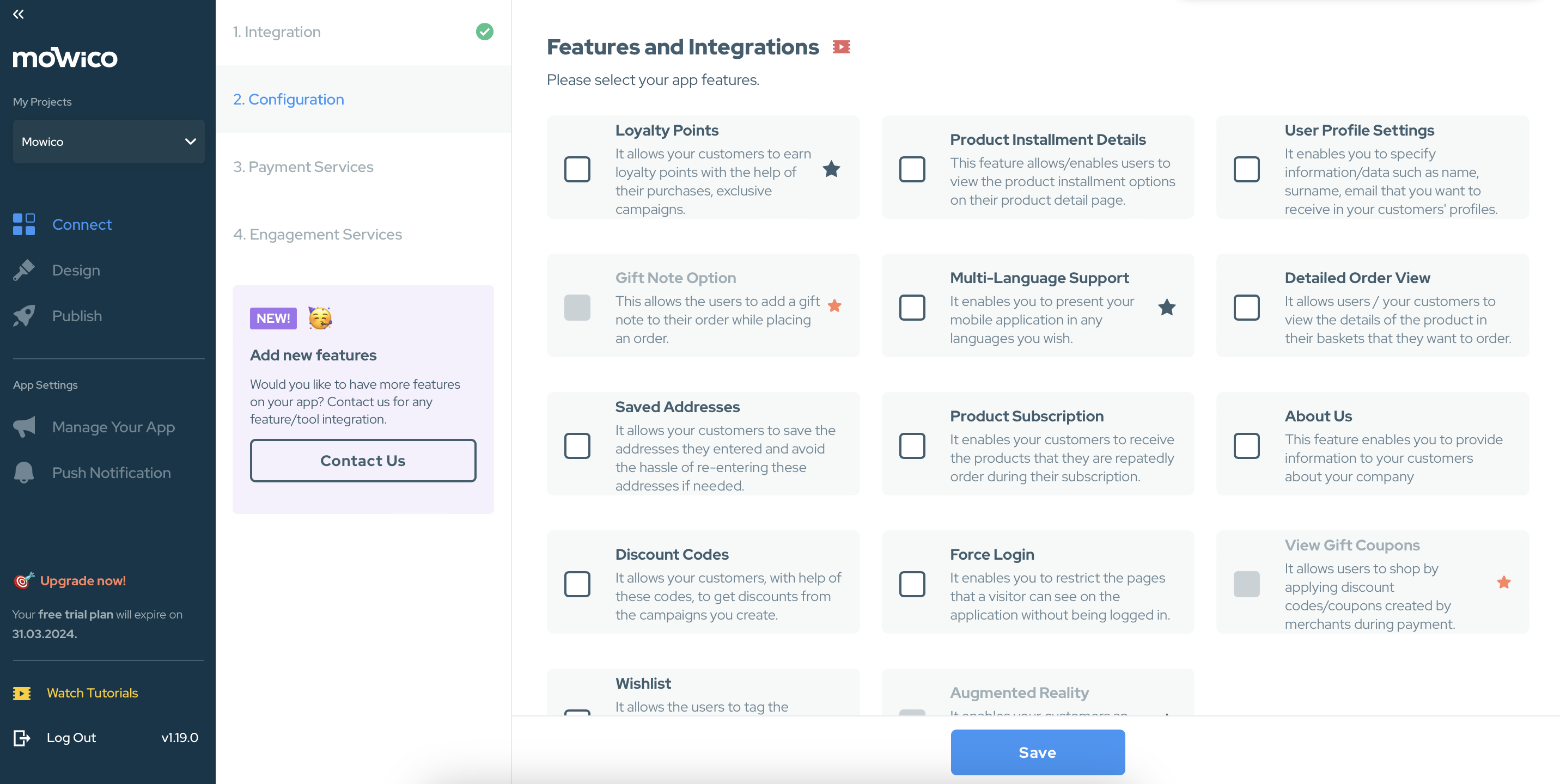 All of these features are provided by Mowico by default. Therefore, if you wish to use more features, you will not face any additional costs. Also, we keep adding new features for all of our users.
Some features may be pre-selected. If you have made any features or options required for your eCommerce website, those features or options will also be necessary for your mobile app.
For more information visit Features to discover more details.
You can activate additional features by connecting your third-party app or tool. You may need to obtain information from the relevant third-party, such as an access key or API key. If any integration availability is limited by your purchased plan, upgrade your plan to activate.
Visit Integrations to discover all supported apps, tools and plugins.
Please keep in mind that if you wish to have a customised or additional feature for your mobile app, please get in touch with our customer support team.
Checkout Page Options
Mowico support both hybrid & native checkout options supported by your eCommerce platform.  Mowico is compatable with any payment services you prefer.
You can adjust your payment service settings on the next section. Please see details here: Payment Services
User Data, Address & Tax
In this section, you can select which data points you will be collecting from your customers for delivery and invoicing purposes. Please mind that you will be able to select the data points that your e-commerce platform supports.
More Questions
To learn more about Mowico, visit Mowico Insights to become a mobile app expert & boost your mobile commerce sales!
Have more questions on configurating your mobile app, we're happy to help! Please reach out to Mowico Support Team through our LiveChat in your dashboard or you can email us at support@mowico.com.