The Mowico Wizard platform is completely user-friendly, and works as no-code & low-code drag-n-drop as the main logic. If the necessary visual and content is ready, it only takes minutes to build a mobile app.
The Mowico Mobile App Builder has 3 stages: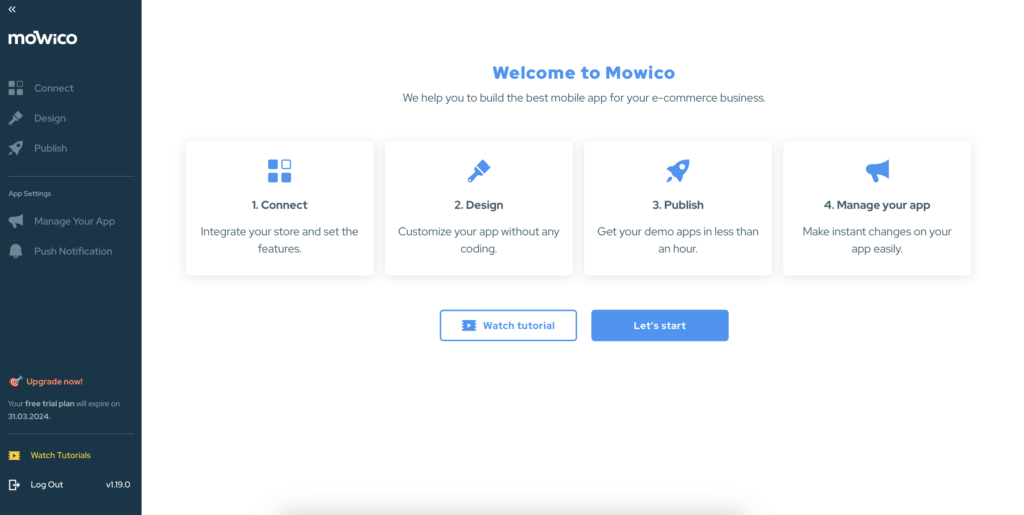 1. Connect: Integrate your eCommerce store with Mowico.
Mowico provides seamless integration with any eCommerce platform, such as Shopify & WooCommerce, and soon PrestaShop, BigCommerce & Wix. With just a few clicks, you can effortlessly sync your e-commerce platform to your mobile app.
Mowico is designed to adapt to every platform, 3rd party tool, payment method, and analytics tool to make it easy to create seamless experiences both for you and your customers.
For more information, visit here.
2. Design: You can customise your mobile app.
Mowico Wizard's drag & drop interface allows you to build your mobile e-commerce application without any coding skills. With our user-friendly interface, you can easily add or remove e-commerce features and components to create your ideal app.
Additionally, Mowico's app builder interface enables you to make quick and easy changes to your app. You can experiment with new features, add or erase them, and determine what works best for your customers. This way, you can create a mobile app that perfectly fits your business needs and customer preferences.
For more information, visit here.
3. Publish: You can live preview & test your demo app.
To ensure that your mobile app works perfectly on every device, it's essential to test it thoroughly before publishing. Mowico's live preview fe
ature makes it easy to do this.
To test your app, use your mobile device to scan the QR code using the Mowico App on Android or the Testflight App for iOS. This will allow you to see a preview of your app on your device and test its functionality.
Once you've tested your app and made any necessary changes, you can confidently publish it on the App Store or Google Play Store.
With Mowico, you can rest assured that your app will work seamlessly on every device, helping you take your business to the next level.
For more information, visit here.
From the left-hand side menu, you may hide the bar. Besides, you can create two different mobile app projects on your account. You can rename, or delete your app projects. You can contact our customer support team via chatbot on the right bottom corner of the Mowico Wizard platform.
More Questions
To learn more about Mowico, visit Mowico Insights to become a mobile app expert & boost your mobile commerce sales!
Have more questions on Mowico Mobile App Builder, we're happy to help! Please reach out to Mowico Support Team through our LiveChat in your dashboard or you can email us at support@mowico.com.