Two key elements determine the long term success of a retail or bulk-retail business: agility and steady growth. E-commerce is undoubtedly the today and the future of commerce in general. With game-changing advancements of digitalisation like e-commerce platforms and no-code app builders that help entrepreneurs and businesses streamline their modern e-commerce operations, it's now easier than ever to follow the basic rules of e-commerce.
This makes e-commerce businesses increasingly more responsive, better attuned to the needs and outlook of the customer, and more flexible. There are tens or even hundreds of other businesses out there who benefit from all those advantages just as you do and compete for the attention of the same crowd. In such an environment, one of the main challenges e-commerce businesses face is increasing conversion rates.
In this article, we shared our top suggestions to achieve better conversion rates with no-code based e-commerce and m-commerce.
1- Generate Discussion
Although making your business responsive with chatbots, easy communication tools, excellent customer care services, a call centre, and instant messaging apps is great, it is not nearly enough to keep your customers engaged. Don't just stop at making your customers converse with you; give them a hub to talk with each other. 
Enabling customer reviews, testimonials and rating is an easy and great way to collect feedback on your products and provide social proof to potential buyers about the quality of your items and services. Data suggests that 93% of customers trust the online reviews they see, and 72% say that positive reviews influence their buying decisions. A customer survey suggests that user testimonials and customer reviews might facilitate 62% more revenue per customer. 
Creating a space for customer feedback will give your business a bazaar or town market vibe that will increase the authenticity of your organic customer experience and make your platform a hub for genuine social interaction.
Collect user testimonials from your most loyal customers. If potential buyers see that other buyers are happy with your products to the extent of speaking confidently and publicly on your behalf, they will become more prone to trust you.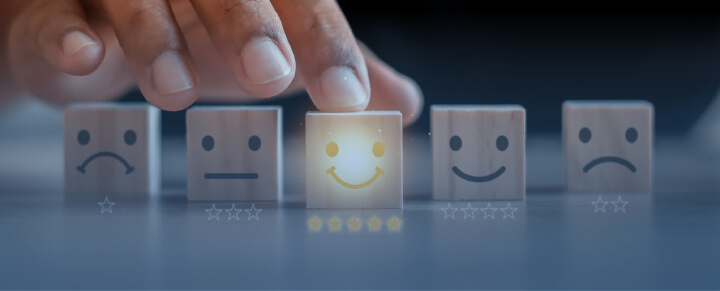 2- Be Everywhere, Be Connected
If you want your presence to be noticed, you have to go out of your village and see the world. Do not limit your brand's presence to your e-commerce site or app– join as many marketplaces as you can, and be on every communication channel, every social media platform.
Make all ways lead to you. Different venues allow you to reach different customer personas and increase your impact. So, be accessible from every venue that your customers will find convenient and enjoyable.
3- Go Mobile (Now!) – Make a Swift Mid-Game Entrance
But most importantly, go mobile. People find the online experience more comfortable for a myriad of reasons.
An app is the most convenient tool for occasional visits, quick sales checks or even adding your favorite item to your wishlist on the spot. Plus, mobile apps decrease the risk of distraction as they are more compact. While adapting your platform to mobile, focus on smartphones as 79% of all mobile users use smartphones instead of tablets.
At this point, any business that will step into the e-commerce scene is lagging. The phenomenon is well-established, and big players have already made both fast and effective transitions with their massive resources. Be aware that you are making a mid-game entrance. So, run faster, play faster, and play better.
In other words, agility and responsiveness are key to your e-commerce success. For example, if you're still not strong on the mobile commerce front, you're missing the chance to get three times more conversion rates, and thankfully, m-commerce takes a couple of hours to fully adapt with the magic of no-code.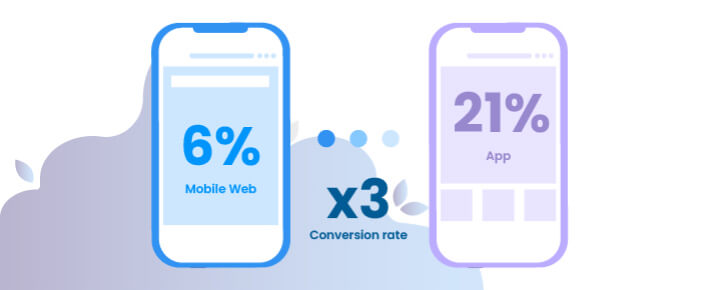 It's easier than ever
With no-code based solutions, the design and implementation of tools that will make you communicate better and faster take as little as mere minutes. You won't have to plan and strategize for the implementation, dedicate multiple teams and massive time, or debate over the ideal programming language, SDK, and a ton more.
This boosts the agility of your business like no other technique. With readily available code chunks designed to execute countless functions, you can decide on a solution by the morning and add it to your application and services by supper time.
With no-code e-commerce solutions, re-inventing your platform every day and being adaptable is also easy. Once you collect feedback from your customers, you can adopt the most frequently requested features and functions in no time.
4- Befriend SEO With Your Content
Neil Patel suggests that, combining SEO and CRO and balancing traffic and ranking concerns with delivering value, you can impact your conversion rates with words. Put out great content that will educate and engage your customers. Have a blog and make sure it does not go silent for too long. Think about how your customers will search for your product both via text search and voice search.
Last but not least, craft emails that will sound more like a friend dropping by rather than a wartime messenger on horseback. Be brief but anecdotal.
5- Play Simple and Effective
Make your onboarding and checkout steps as simple as possible. Many customers, especially mobile users, do not find long sign-up forms convenient and abandon the platform instead of tackling ten questions. Plus, data safety is a critical issue for many buyers, and it is key that you only ask for the essentials. In addition, many customers might have reservations about entering their credit card info into a website.
Better include as many payment methods as there are. Statistics suggest that over a third of the customers did not go forward with platforms with mandatory sign-up and complicated checkout processes. Be flexible and follow the steps of your buyers.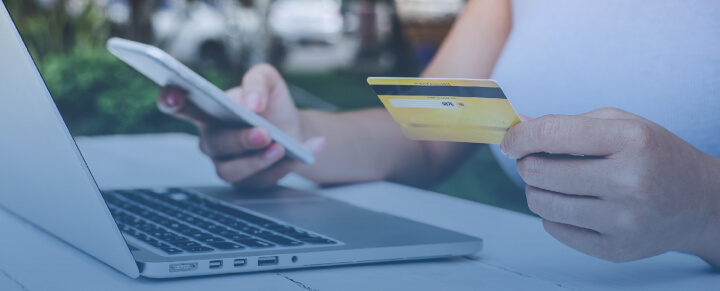 6- Implement Proven Success E-commerce Tactics
Although they may vary by different branches, there are some basic e-commerce tactics that apply to almost every business on the market to increase the conversion rate. Here are some of the proven successful e-commerce tactics that come to mind.
Re-engage Cart Abandoners
Cart abandonment is in the nature of e-commerce, but giving up on cart abandoners is not the way to go if you're after improving your conversion rate. You can always rely on emails to remind your customers about what they're missing with small coupons or reminders, but in the mobile-centric world, push notifications are the best-performing attention grabbers when it comes to cart abandonment.
Optimise Your Site/App Speed
Time is becoming more and more essential in today's speed-hooked world, and the same rules apply in e-commerce sites or apps. Today, 50% of users say that their limit is three seconds for a site to load, which seems crazy, but can easily be fixable. Use Google's free site optimisation tools to see how you can increase your site speed. With Mowico's app builder, we can make sure that you're covered on the app speed front.
Use High-Quality Images
When you're optimising your site speed, you may think the first way to go is to compress your images, but don't forget that images are your storefront in e-commerce, and you shouldn't push it too hard. Always use high-quality images, even if you're using mockups to showcase your products.
Personalise Your Site
Personalisation is one of the hot topics in e-commerce, and it's almost impossible to perfect even with today's algorithm technologies, but you have to start somewhere. If you're not in a place where you can personalise your homepage, you can always analyse your customer profiles to make quick updates and perform A/B tests to see which products speak more to your customers when they land on your site or app.
7- Utilize Data: Collect, Measure, Gain Insights and Use for Your Next Campaigns
Always collect data about the navigation and buying habits of your existing customers. This will give you an idea about what your customers want and how they want to use your services. 
Do not just wait for the holiday season. Roll exclusive deals and sale campaigns out at your hottest periods, reach out to your customers via email, suggest products similar to the ones they liked or bought, and send notifications at their most active times.
In order to achieve personalisation, segment your data by location, age, items purchased, activity time and purchase frequency if you can. This will give you great insight into the shopping behaviour and the needs and likes of your customers and allow you to humanize them.
Game Endurance: Repeat
For a business to thrive and keep the throne, it is vital to repeat all those data collecting, analysis, optimization, adaptation, and expansion processes. What is the ideal interval? Marketers recommend minimum bi-weekly or monthly monitoring in order to collect enough data and act as soon as possible. 
Being responsive and agile is not limited to being in the right places and having the right platform design. It depends a lot on recognizing and adapting to the change. Divert from the traditional buying cycles and seasonal breakdowns and consider each day and each customer a reason for the change. Stay proactive, stay profitable.
Try Mowico now for free, and see how little it takes to build your own e-commerce app. Increase your conversion rates with the capabilities of an app.
Was this article useful?
Let us know if you liked the post. That's the only way we can improve.