For a long time, emails were the primary means of communication for eCommerce businesses to engage with their customer base. But the world is on the verge of a drastic digital transformation, and -mails feel like they are from a former era. 
In today's rapid world of eCommerce, being faster and more responsive than your competition is the key to attracting new customers. As mobile devices are becoming the #1 stop for online shopping, eCommerce app push notifications seem like the best working solution to create brand awareness and increase conversions.
40% of users interact with push notifications within an hour of receiving them.
Still, it would be best to be precise and thoughtful about how you connect with your customers so that you can unlock the full potential of push notifications. In this article, we will explain the benefits of push notifications in eCommerce apps and best practices on how to use push notifications in eCommerce apps.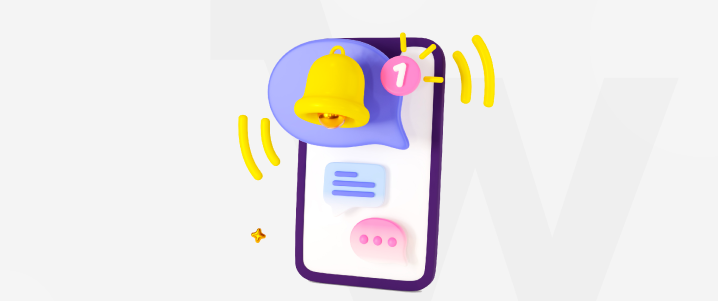 Benefits of Push Notifications in eCommerce Apps 
Push notifications are a great way to increase your conversion and click-through rates. If you want people to come back to your mobile app, push notifications are your best friend. They can be a great way to engage with customers and get them coming back for more with a single click. Here are the main benefits of push notifications in eCommerce apps:
Push notifications are easy to use 
Let's get the obvious out of the way; push notifications are the easiest way to communicate with your customers effectively. When you have your mobile eCommerce application, just a simple touch is enough for you to send personalised push notifications to your customers. 
Since push notifications highly increase your brand visibility, your brand awareness will also rise. With push notifications, you can reach out to thousands of people in an instant, and preparing push notifications takes a considerably shorter time than an email, too. So why stick with email when you have a faster and easier option?
Push notifications let you retarget & remarket 
When people start looking for a particular product online, the options are abundant. That's why eCommerce businesses need to focus on users who are already exposed to their products or services to turn visitors into customers. 
This marketing strategy is called remarketing, and push notifications are easily the most effective way to retarget your customers and conduct a remarketing campaign. You can even let them know about price drops and remind customers about their abandoned carts anytime you want. 
This is because push notifications are highly visible, and as exposure increases, users' probability of making a purchase increases too. After a user views an item at your store and leaves without making a purchase, you can notify them about the diminishing stocks of that item or a new deal that they can enjoy. 
You can also focus on people with unpurchased items in their shopping cart and attract them back to complete their purchases. Either way, push notifications massively help you in your remarketing processes.
Push notifications let you send
personalised messages
Personalisation is the most popular term in eCommerce, and the best part of push notifications is that they are highly customisable. Personalising a push notification can cause higher open rates by up to 800%. 
So you can call your customers by their names, add pre-ready text messages depending on the items they are interested in, or further personalise the text with any information they shared with you while signing up. 
Push notifications create higher customer engagement 
In the eCommerce industry, maintaining a successful amount of engagement with your users is the key to expanding your customer base. Aside from attracting new customers and increasing revenue, customer engagement also helps your business turn visitors into buyers and one-time buyers into regulars.
Because of this, having a means of communication that allows you to reach out to your customers as you like will directly impact your customer retention levels. And push notifications are exactly what you are looking for. 
A study has shown that 50% of mobile users allow push notifications to find out about special deals and exclusive offers. So it's safe to say that with push notifications, you will be addressing the majority of your customers in a straightforward yet effective way. 
Push notifications let you reach your customers in real-time 
One of the most significant benefits of push notifications in eCommerce, over other ways of keeping in touch with your customers, is the ability to reach out to users in an instant. Unlike emails, push notifications are really hard to miss when they pop up on users' screens. 
Since you can be more or less sure that your push notifications will not go ignored, it's safe to say that when you send a notification, users will see it in a short amount of time, if not immediately. This real-time nature of push notifications opens new possibilities for businesses to attract their users. 
For example, you can notify your users about a deal the moment it starts, or you can create timed offers and let your users know through push notifications. While creating a sense of urgency, timed sales also add an external value to your product. And according to a study by NRF, nine out of ten customers are persuaded by the additional value of a product even if they were not interested in making a purchase in the first place.
The First Step to Using Push Notifications: A Mobile eCommerce App
If you are in the eCommerce business but still don't have an application for your brand, now is the perfect time to get started with your mCommerce journey. Fortunately, it only takes hours with no-code eCommerce app builder platforms to build an eCommerce app today.
With eCommerce app builder Mowico, you can transfer your eCommerce business into a mobile application in hours. And you will not need any coding knowledge or experience; everything is done through an easy-to-use drag-and-drop interface so that you can comfortably design and customise your eCommerce mobile app. 
Mowico lets you send push notifications to connect with your customers, create targeted push notification campaigns with Geofence Tracking, and increase customer retention with loyalty strategies, such as loyalty points and many more. Explore all features of Mowico now, and start building your eCommerce app for free.
Was this article useful?
Let us know if you liked the post. That's the only way we can improve.