One of the first names that comes to mind when we say e-commerce is undoubtedly Shopify. The platform serves more than 1 million e-commerce businesses and more than 100 million shoppers from all around the world. For years, it's been the biggest name in the e-commerce arena. We all know the massive share Shopify receives from the e-commerce market, but that's not the subject of this article: it's the apps that benefit from Shopify services that we're interested in.
Why Should You Build an App for Your Shopify Store?
There's no doubt that retail is in constant digital transformation, and e-commerce is where the actual revenue stream comes from. But there's one area that many sellers hesitate to step into: mobile commerce.
Mobile app development takes over e-commerce
As we know, mobile devices are nothing without apps. Mobile device users spend 90% of their time on apps. E-commerce is also moving towards the world of apps, and even at the beginning of the road, the numbers are overwhelming.
Shopify, one of the most popular e-commerce platforms, lets users build e-commerce websites without the need for coding or web design knowledge. But in the age of mobile, websites are no longer leading the e-commerce industry.
Shopify store apps skyrocket conversion rates
Even the website traffic that comes from Shopify clearly shows the domination of mobile in e-commerce. In fact, 79% of the Shopify user base shops through their mobile devices.
The growing importance and effectiveness of mobile apps present businesses with a faster, safer, and more modern way of shopping. The ease and accessibility of mobile commerce apps also reflect the success and growth of businesses; a mobile app nearly quadruples conversion rates compared to e-commerce websites.
Besides, one in four m-commerce app users adds an item to the shopping cart, while only 13% of website users do so. And while half of users purchase while using an m-commerce app, only 34% of website users end up buying the product they are looking for. Reviewing the numbers, it's easy to say that converting your Shopify store into a mobile app is the best possible way to reach your customers at the moment.
Let's see how you can turn your Shopify website into a fully-fledged mobile app.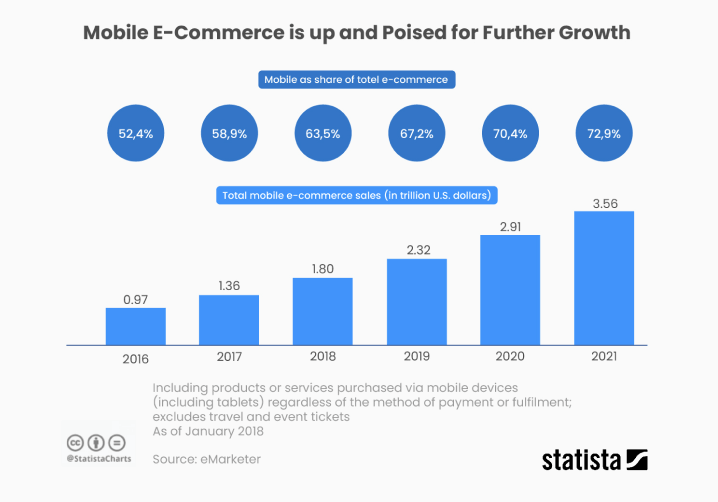 Source: Statista
How to turn your Shopify Store into an App
Considering Shopify was your choice while designing and building a website, it's highly likely that your coding knowledge might not be enough to make an app on your own. There are numerous mobile e-commerce app builders out there to help people with no app development experience design and create their apps. So you need to be aware of must-have features for an e-commerce app and app builder to make a wise choice in the end.
How to choose the best app builder for your Shopify store
Aside from key features for your e-commerce app, the app builder you choose also needs to cover the following:
Compatibility: Compatibility is key if you are converting your current e-commerce website into an app. So the app builder should be compatible with the most prominent e-commerce platforms, including Shopify.
Ease of Use: Since you are working with little knowledge of traditional app development, your app builder of choice also must be accessible and easy to use. For beginners, a drag-and-drop interface massively streamlines the app-building process, so consider it too while choosing an app builder.
Speed and Design: Also, the app you build needs to hold today's standards and offer an overall smooth experience for users since the app's speed and design end up attracting your customers to become regulars.
Synchronization: After choosing the best app builder to convert your Shopify website into an application, the next step is to link your website to the app builder. Then, you can start transferring your e-commerce data into your application so that your app and website information are in sync.
Choose the best features for your Shopify mobile app
After linking your website with the app builder, you'll need to choose the features you want your app to have. In this step, you should pick features that fit your brand and help you create a rapid and streamlined shopping experience for your users.
Generally, choosing features that enable you to expand your customer base freely is the most sensible option. For example, adding multiple payment options instantly increases the number of people to whom you can offer your services. Or you can add AR implementation to your app to allow your customers to see what a product looks like in their room before making a purchase.
Interface design tricks in mobile app development
The next step is interface design, which determines how your customers use your application. A no-code app builder like Mowico provides app owners with a drag and drop interface that lets users easily design their app and tweak it whenever needed. So start designing your app with the drag-and-drop process, and don't forget to keep the user experience your top priority. For more ways to increase your revenue with your app design choices, you can check out our most profitable design recommendations for app owners.
When the drag-and-drop design is complete, your app design process is pretty much done. Next, you'll need to test your app and then publish it in the application store of your choice. If you need a hand with that, you can check out our guide on how to publish an app on the App Store.
Time to Build an e-Commerce App without Coding
If you are looking for a way to build an app for your e-commerce business, the no-code e-commerce app builder Mowico is the best answer possible. With Mowico, you can transfer your e-commerce business from over 35 compatible e-commerce platforms, choose the features you want, and design your app with an extremely easy drag-and-drop interface.
With the app you build with Mowico, you'll be able to engage with your customers through push notifications, expand your customer base with multiple payment methods, create focused and effective campaigns with geofence tracking technology, and increase your customer retention rate with loyalty programs. The best part is–Mowico is free to try! Visit our website to learn more or start building your app today.
You've built your Shopify App–it's time to promote your app
Since there are many apps in the market, especially if we're talking about e-commerce apps, it is not easy for a user to find one that suits their needs. Mobile app promotion is essential to create awareness about your app and drive downloads.
Promotion of mobile apps can be done through various channels like social media, email marketing, App Store ads, and influencer marketing. Choose what fits your business model best and begin promoting your app. For starters, placing a banner on your Shopify store or sharing app-specific promo codes on social media is the best way to go. Don't forget to follow Mowico Blog to learn about the latest trends in e-commerce and m-commerce.
Was this article useful?
Let us know if you liked the post. That's the only way we can improve.