5 Effective Tips to Achieve Maximum Customer Retention
The expression "customer retention" refers to the practice and set of strategies used to establish a continual bond between a business and customer. A long-term customer relationship strategy between the service user and service provider helps eliminate some of the competition, as loyal customers tend to want more specific goods and services and have more consistent shopping habits. 
In other words, loyal customers either see something that they are immensely drawn to in your brand, like your unique style or pledge to decrease carbon emissions in production, or it means that you meet a specific need, a shopping preference upheld by the customer.
Why Does Customer Retention Matter in a Business? 
Ploughing through competition is not the only perk of a high customer retention rate. While a one-time purchase establishes a non-permanent transactional link between the business and the customer, the relationship between a company and its long-term customer is similar to a partnership. Research done by a well-known agency shows that a loyal customer is five times more likely to repurchase from the same brand and four times more likely to recommend the brand to other people. 
In short, a one-time customer is only a customer. In contrast, a retained customer is an ambassador, a partner, and an advocate for your brand, and that's why you need to focus more on customer retention strategies than before.
Data shows that the effort to gain new customers costs five times more than what it takes to retain existing customers. Moreover, the probability of a long-time customer purchasing from your store is 60-70%, while it is 5-20% for a new customer. So even in a dormant state, a retained customer still has more potential than any prospective buyer.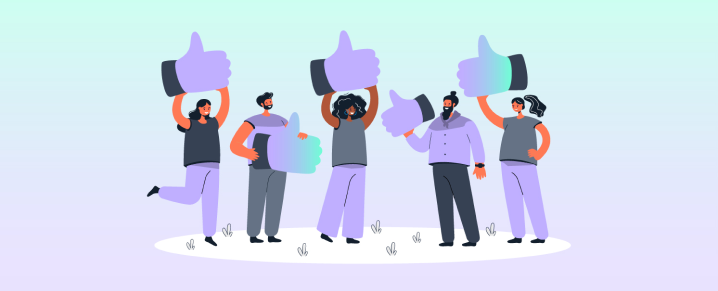 As a service provider for eCommerce and mCommerce businesses, we have curated some practical techniques that will show you how to apply customer retention strategies to your mobile business.
Top 5
Customer Retention Strategies for mCommerce
and eCommerce
Every business wants to keep its customers happy and satisfied. However, some companies are better at it than others. Many practices can help businesses retain their customers and keep them coming back for more.
Here are some best practices for customer retention for mCommerce and eCommerce businesses.
1.Push Notifications 
The "push notifications" feature is a great way to remind your customers of your brand. Statistics show that push notifications boost app engagement by up to 88%, and when they are turned on, 65% of users return to the app within 30 days of their previous visit.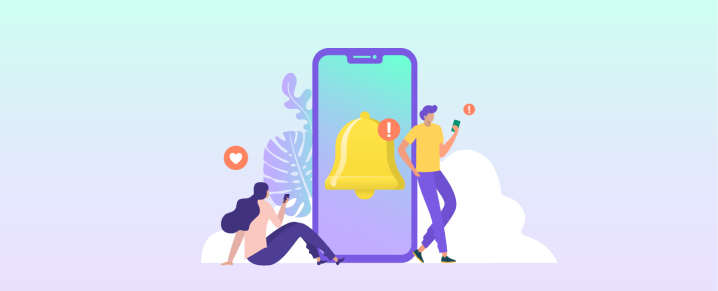 This creates an engagement cycle that refreshes itself with every new month and consequently, every paycheck. Push notifications also help a brand to sift through newly registered users and effectively target those who are open to more engagement. The same data cited above also shows that a customer who opts to allow this feature is twice as likely to retain the app on their device.
 2.Use Data to Offer a Personalised Selection 
Use previous transactional data, favourites lists, and app navigation statistics to know your customers better. Especially when a customer has a certain product in mind, combing through hundreds of options becomes more of a burden than an idle activity suited for a lazy afternoon. 
Enabling your app to make an automatic pre-elimination for all things that do not suit a customer's taste is a great way to make the e-commerce experience more enjoyable. Adapting product display to customer preferences also helps your customer to adopt a "no regrets" policy towards your brand and forgive if delivery does not meet the expectations every once in a while. 
3. Follow Up on Purchases 
Following a purchase, send a short email, a notification, or a small pop-up message that congratulates the customers on their choices and suggests complementary products that will give even more function and style to the product they have purchased. This makes the customers grow pleased with their purchase as well as feel appreciated for their tastes and preferences.
4. Gamification 
If you can, or if your products allow it, turn the online shopping experience into a game or, better yet, a competition. 
Determine purchase thresholds to give special status markers to your customers, such as diamond or platinum members. Place targets and organise contests (e.g. "Send a selfie with your favourite outfit made up of X products and get the chance to win 30% off all products for a whole month!"). 

Arrange social media-based lotteries that will motivate your customers to engage with the brand.

Give out badges, such as "Fashionista" or "Style Guru," as customers make more purchases or share more products on certain platforms. 

Turn each of these badges into special benefits, such as free shipping or small gifts added to packages.   
5. Educate Your Customers
Analyse your customers' preferences and educate them on their choices and the choices they will make in the future. For example, if you have a winery, sending informative cards and booklets with the shipping will turn the customer experience into something more than a regular shopping experience–a discovery and exciting journey. 
If you have a cosmetics or bakery supplies brand, on the other hand, you can add step-by-step guides to certain makeup styles or recipes to product specifications on the app, add instructive videos to your app, or otherwise broadcast these videos on different social media channels.
No Code, No Hurdle: Your Mobile eCommerce App is Ready!
As you might have noticed, almost all of these customer retention strategies include a mobile strategy, and there's nothing better than mobile apps to steal the spotlight in the vast competition of eCommerce. With Mowico, you can adopt all of these mCommerce customer retention strategies and integrate the corresponding eCommerce app features to your eCommerce business in no time. 
Building an app with Mowico is super easy, and it usually takes less than two hours to carry your eCommerce business into the world of apps. Yes, the best part is no coding knowledge is required with Mowico! With zero downtime and experience interruption, it will be easier to engage your customers for longer and keep them from turning away to other brands. See how Mowico lets you create a no-code eCommerce app within hours, or sign up for a free 14-day trial to see it for yourself!
Was this article useful?
Let us know if you liked the post. That's the only way we can improve.