The world of mobile applications is endless. As every part of our lives gets its share of the digitalization trends, apps of different purposes continue to pop up everywhere. Finance apps, online shopping apps, notebooks, video players, social media apps, daily health trackers, calendars, and so many more… There are more than 80 apps in an average smartphone today, and people use roughly nine of them on a daily basis.1 According to their phones' operating system, users generally access these applications from Google Play Store in Android phones and App Store in Apple phones. Both of these application stores flourish with apps of all kinds that meet the countless needs of smartphone users.
If you are an app developer too and looking for ways to publish your application in these stores, you are at the right place! Both of these stores have straightforward yet somewhat lengthy processes before publishing your app; in general, your app needs to be approved by the storefront so that Google and Apple can ensure the suitability of your app with their store policies. As your useful helper in transforming your online businesses to e-commerce apps, here are Mowico's tips for publishing your app on the Apple App Store.
How to Publish an App On the App Store?
The processes for publishing your app on App Store and Google Play are a bit different. The main differences derive from the open nature of the Android operating system and the fact that Apple is more strict in its policies for the App Store.
Setting up your accounts
First things first, you need to join the Apple Developer Program in order to be able to submit your applications to the App Store. Besides submitting and managing your apps, an Apple Developer Program account also lets you create Safari extensions, access beta versions of Apple software, use Apple's testing tools, and use application analytics with data provided by Apple.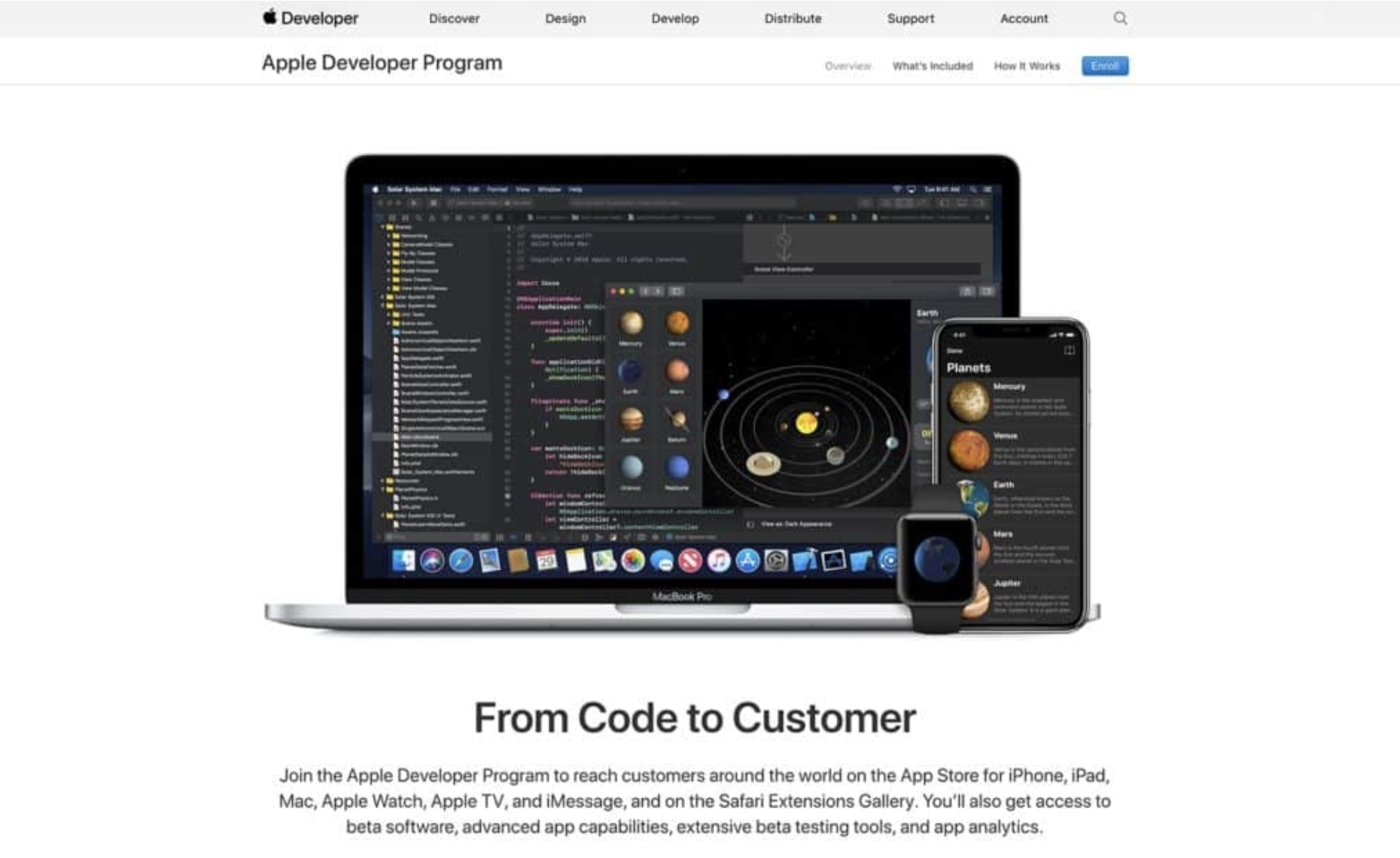 Source: Apple
After getting into the Apple Developer Program, you will be able to use App Store Connect. That's where you are going to manage everything related to the App Store in the future.
Before Listing
As we said, application stores do not approve applications to be listed before testing them and ensuring that they are working correctly and following the store's guidelines. Since Apple is more strict on that front, checking the App Store Review Guidelines out first and making a self-assessment to see if your app is suitable for listing can be helpful to pass the App Store review later smoothly. Besides the guidelines, your app needs to be bug-free, and it needs to work correctly. For that, you can use the testing tools provided by the Apple Developer Program and identify any bugs or crashes before submitting your app to the App Store.
App Store Listing
After checking your app using App Store Review Guidelines and testing tools, you are now ready to create your App Store listing. To start publishing your app, you need to go to the App Store Connect and enter the My Apps menu. In the My Apps menu, you will be able to add a new app and start entering the necessary information about your application.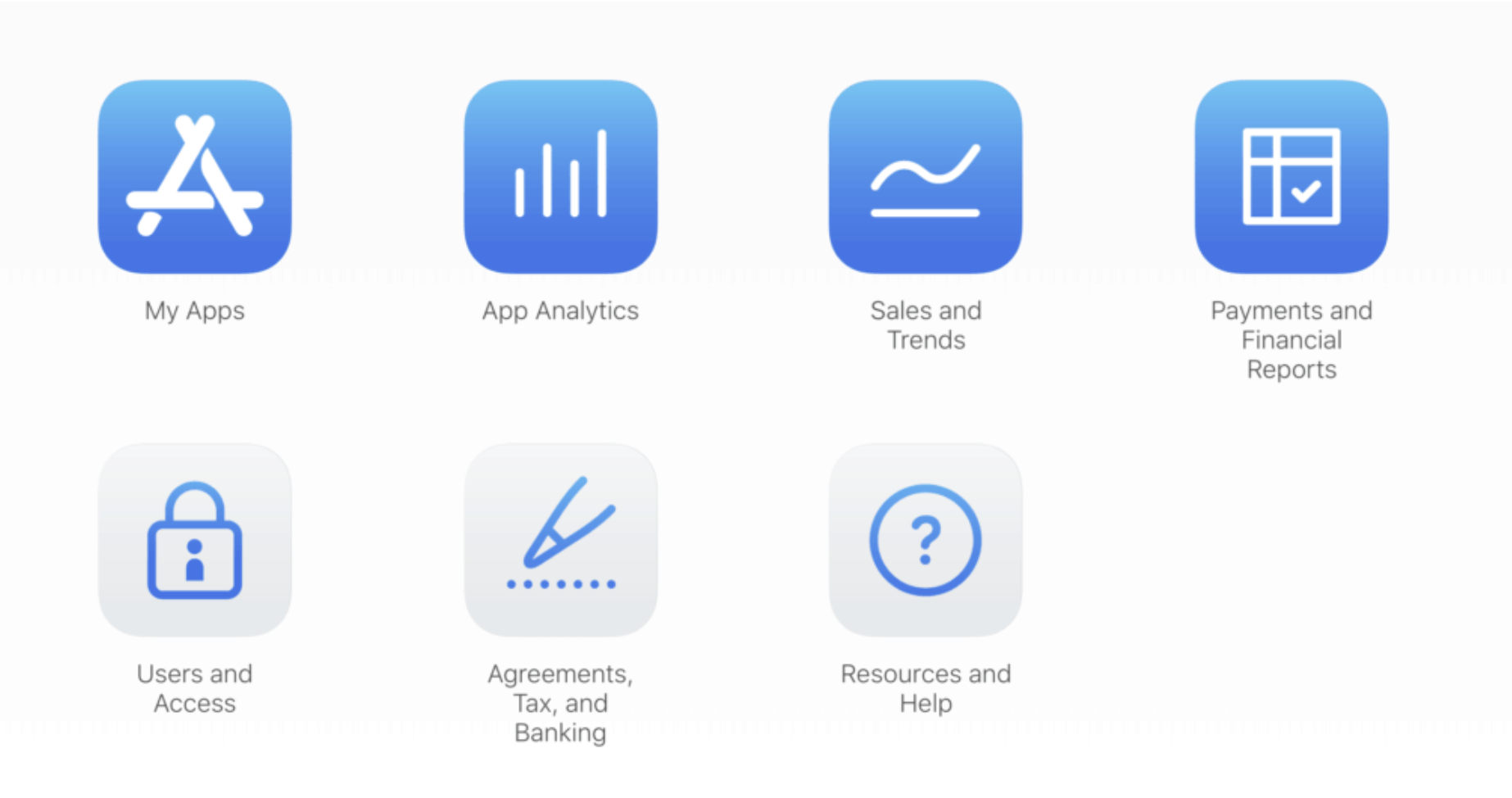 Source: Apple
This part of the process is fairly simple; you just need to provide a name, a description, privacy policy and support URL for your app. Then you need to choose its primary language, minimum audience age, and the category you want to list your app in. Besides these, you need to create a test account for apps that require a login and share that account information so that the reviewer can test your application later.
After you are done with entering information about your app, you should set a price for your application and select the countries you will publish your app in the Pricing and Availability section. Also, from the Version Release section, you can choose whether you want to immediately publish your app after it passes certification or wait for a later time to release it.
To complete the requirements of your App Store listing, you need to provide screenshots of your application. Since Apple offers a wide range of products, all with different sizes and screens, you need to upload a set of necessary screenshots to progress. You can check out Apple's screenshot specifications here. Also, you can check out our article 5 Mobile App Marketing Strategies for Exceptional Growth for tips on how you can set up your store page and choose the best screenshots for your app.
Uploading The App
The file format for Apple applications is '.ipa', and you need to upload your .ipa file to the App Store Connect platform. But it's not possible to do it directly; you need to use software like Xcode or Transporter to upload your .ipa file to App Store Connect. Related to the size of your app, the bundling of your application by Xcode may take a bit longer than usual, but you can easily upload it to your App Store Connect account after it's done. If you have already filled up your information about your application, you need to wait for App Store Connect to process the .ipa file and ready your app for release. Then, you just need to select 'Submit for Review' and wait for the Apple team to review your application. After that, your app will be ready for release or already released according to your preferences.
How Much Does It Cost to Publish an App on the Apple Store?
There is no additional cost for publishing your app on the Apple Store. Still, as we said, you need an Apple Developer Program account to access the necessary features to submit your application. And you will need to pay $99 a year to be a part of the Apple Developer Program. As long as you pay your annual subscription fee, you will be able to use the App Store Connect account and manage your App Store apps. If you don't renew your payment after a year, don't forget that your apps will be removed from the store.
How Much Does it Take to Publish an App on the App Store?
While publishing your app on the App Store, the most lengthy process is waiting for the certificate that proves your application's suitability with the App Store Guidelines. And the average time for the review process is around one to three days. After the review is done and you get the approval, it might be about 24 hours until your app has appeared in the store. So, in total, you will need 4 or 5 days maximum to publish your app on the App Store.
One More Question: How Long Does it Take to Build an App?
Depending on the purpose and the complexity of your application, the time to design and build it varies completely. Roughly, it takes three to nine months to design, develop, and code an app. And if you are an inexperienced app developer, it may take even longer than that. But you can decrease the amount of time needed for app development to just several hours with no-code platforms that help you build an app without any kind of coding knowledge.
For your e-commerce company, Mowico is the best solution for creating your mobile e-commerce application. With Mowico, you can quickly transform your e-commerce website into an e-commerce application in just a couple of hours, thanks to the no-code app builder. The easily manageable interface of Mowico lets you edit and design your app even if you don't have any coding knowledge and experience. Mowico turns the months-long app development process into a drag-and-drop process. It is compatible with over 35 e-commerce platforms, so you don't have to worry about any kind of compatibility issues. Visit our website to check out the extensive list of Mowico's features and start your free trial to experience the ease in app development for yourself.
Was this article useful?
Let us know if you liked the post. That's the only way we can improve.