The busiest shopping days of the year, Black Friday and Cyber Monday, are right around the corner. Black Friday presents producers of mobile apps with a fantastic opportunity to draw in new customers, win back old ones, and boost sales considerably. 
AppsFlyer reports that compared to the previous three Fridays, in-app consumer spending increased by 143% on Black Friday 2020. If you're a WooCommerce store owner, there's your biggest reason why to build a WooCommerce mobile app.
Owners of WooCommerce stores must prepare weeks in advance to capitalise on these days' higher traffic and sales. Even while managing sales during these busy times is a difficult undertaking for both physical businesses and online retailers, you cannot afford to pass up this chance for significant discounts. To make sure nothing is overlooked as you get ready for the big sale, it is usually a good idea to start with a checklist. 
If you are looking for information on optimising and building a WooCommerce app for Black Friday, let's start with some of the checklists that might assist you and your store to get ready for the Black Friday sale.
How to Get Prepared for
Black Friday and Cyber
Monday 
To avoid last-minute difficulties, it is best to begin preparations for the biggest shopping frenzy of the year early. So here are some Black Friday WooCommerce tips: 
Put everything on the mobile screen 
With a WooCommerce mobile app, you can manage and operate your online store from your mobile device. With a mobile app for your store, you can make your selling process extra accessible and efficient. Additionally, equip your buyers with a simple downloadable store app for seamless and easy purchasing.
Use early promotions & advertisements
Many stores start their Black Friday sales far in advance, as you may have observed. By following this pattern, you'll be able to extend the reach of your Black Friday specials to both current and new customers, and android and ios apps are the best tools to reach customers with push notifications that remind them of promotions or discount coupon codes.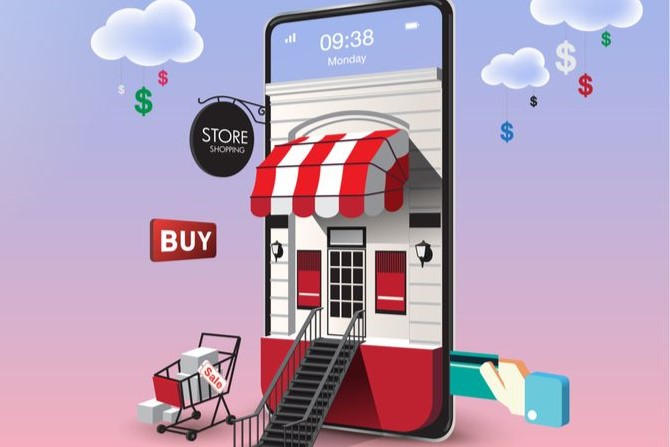 Decrease the trouble of shopping
Make the entire purchasing procedure short and build an easy payment gateway for new clients. Increase the ease of use of your checkout page, add comprehensive product descriptions, and enhance the navigation and search functions of your mobile and web store. 
Design your landing page to stand out in the vast sea of sales
Create enticing offers with referral benefits to make them more appealing. Include a CTA button on your landing page that's user-friendly and encourages conversions.
Make transactions simple & promote your products 
Make your store's deals straightforward so that customers can understand them. Don't make complicated transactions that waste your customers' time.
On your homepage, highlight your promotions so that clients can see how much they can save during your Black Friday sale. Add time banners for special products to give your customers a sense of urgency and excitement. 
Discover the power of
social media
login 
Many of your WooCommerce shop visitors throughout the holiday season won't have used accounts before; instead, they'll be first-timers. Introduce guest checkout or take advantage of a social login instead of making them sign up and run the danger of losing a sale.
While allowing customers to check out swiftly and casually, using a social login also provides you with a lead you can follow up on afterwards, especially for customer feedback.
How to
Create a WooCommerce Mobile App
To reap the benefits of social commerce, push notifications, and faster shopping experiences, offering customers apps for your WooCommerce is essential.  Thankfully, it's easier than ever to build one to attract app users! See why you should create a WooCommerce mobile app here, and leave the rest to the magic of no code. 
With the help of the Mowico mobile commerce platform, e-commerce companies can easily develop no-code apps and benefit fully from m-commerce. The best aspect is that the procedure is quick, simple, and affordable.
1.Connect
Your e-commerce platform should be connected to the app. More than 60 e-commerce platforms, including Shopify, Magento, and WooCommerce, are supported by Mowico. As a result, it only takes a few clicks to connect your mobile app with your e-commerce platform.
Make sure your app has payment integrations. The most common payment methods can be made available to your clients in addition to your current payment system.
2.Design
We make creating no-code apps enjoyable. You can add and remove e-commerce features and components from your mobile e-commerce application using the drag-and-drop interface of Mowico Wizard.
Update your app as soon as possible. With Mowico's drag-and-drop app builder interface, you can always make quick modifications to your app. Add and remove new features to evaluate what benefits your consumers the most.
3.Publish
Before publishing your no-code app with Mowico WooCommerce mobile app builder, we send you a link to test it so you can verify that it functions flawlessly on all devices. After passing the test, you can publish on the Google Play Store and the App Store. At this point, you are prepared to expand your business.
As soon as your demo begins, Mowico provides you with a customer success manager to help your company maximise mobile opportunities.
Enhance the value of your company 
The magic of mobile commerce occurs here. Currently, Mowico is being utilised by more than 50 million clients across ten or more different nations to expand their business into the app market. In order to help any type of e-commerce business succeed on mobile, our mission is to provide the simplest, most efficient method possible.
We are aware that developing a mobile app may be a time-consuming, expensive, and tedious process. However, with our knowledge and skills, making a beautiful app is simpler than ever.
Reach more than 50 million active installs
As a group of programmers, we are aware of how challenging it may be to build an app from the ground up. The primary reasons why e-commerce companies hold back from entering the realm of mobile apps are the time, labour, and financial commitment required to create an app. Therefore, we only focused on e-commerce when creating Mowico using a no-code approach.
Advance Your eCommerce Efforts with Leading App Features 
Each effort on Black Friday is intended to make an incredible impression and keep clients returning to interact and purchase more. In addition to the essential e-commerce functions, Mowico also gives you the option to advance with customisable features. Do you have any suggestions? Get in touch with us, and let's work together to create an upcoming Mowico feature.
Instagram shopping 
The future of business is social commerce, and Mowico supports the Instagram marketplace so that customers may find your products on the social network and then proceed to your app to make a purchase.
E-wallet
You may provide an e-wallet-like native payment option to your clients. The best method to up your loyalty game while also making payments more convenient is by doing this.
AR Shopping
By providing your clients with an augmented reality (AR) purchasing experience, you can fully benefit from mobile devices. Your clients can view your goods in person with 3D models, thanks to augmented reality buying.
Real-time delivery tracking 
Customers want to be able to track their deliveries, but using a third-party logistics service to do so is no longer acceptable. Using apps created by Mowico, you can instantly update your clients on the location of their deliveries.
Any payment option can be added
Any payment service you require is supported by Mowico. The highly handy customisation abilities of Mowico Wizard make it simple to add payment methods like PayPal, Stripe, PayU, debit cards, credit cards, and more into your application.
Was this article useful?
Let us know if you liked the post. That's the only way we can improve.