E-commerce is in constant evolution by its fully digital nature. If you're in e-commerce, you're probably still in the safe zone since the latest and relatively more profitable trends in e-commerce are in their early stages. In today's highly disrupted world, it is crucial to stay ahead of the game to ensure that your business is not left behind to reach your customers from all angles.
In this article, we are going to share the top three trends in e-commerce to generate continuous growth and increase the profitability of your business. The best part is, you don't have to spend a lot of time and money to catch up with the latest trends.
AR Becomes a
Must-Have for E-Commerce
Augmented Reality is one of the most exciting mobile technological advancements for the end-user, and it's a dream come true for the retail and e-commerce industry. AR makes it easier for customers to make their purchase decisions by giving them a better idea about the product they purchase online. It has helped e-commerce grow in recent years. There is less need for customers to enter physical stores and instead, they can find anything they need online with AR. If you are in e-commerce, taking advantage of Augmented Reality increases the conversion rates.
Recent research by Vertebrae has shown that retailers who have been using AR technology have seen a 19% increase in customer engagement during the pandemic. Even better, conversion rates increase by 90% when a potential customer uses AR while shopping.*
At Mowico, we are highly aware of the rising power of AR, and as more people have reached devices with AR capabilities, the impact of AR is only going to increase. We implemented the AR shopping feature on our no-code e-commerce app building platform, considering these facts.
Retail is Making a Comeback, but There are Conditions
After a long pause of in-store shopping due to the pandemic, people are finally back to where they were two years ago, but retail has a more substantial hand this time. The first months of the pandemic hit the retail industry in the worst and the most unexpected way possible, with a 9,2% decline in in-store shopping globally.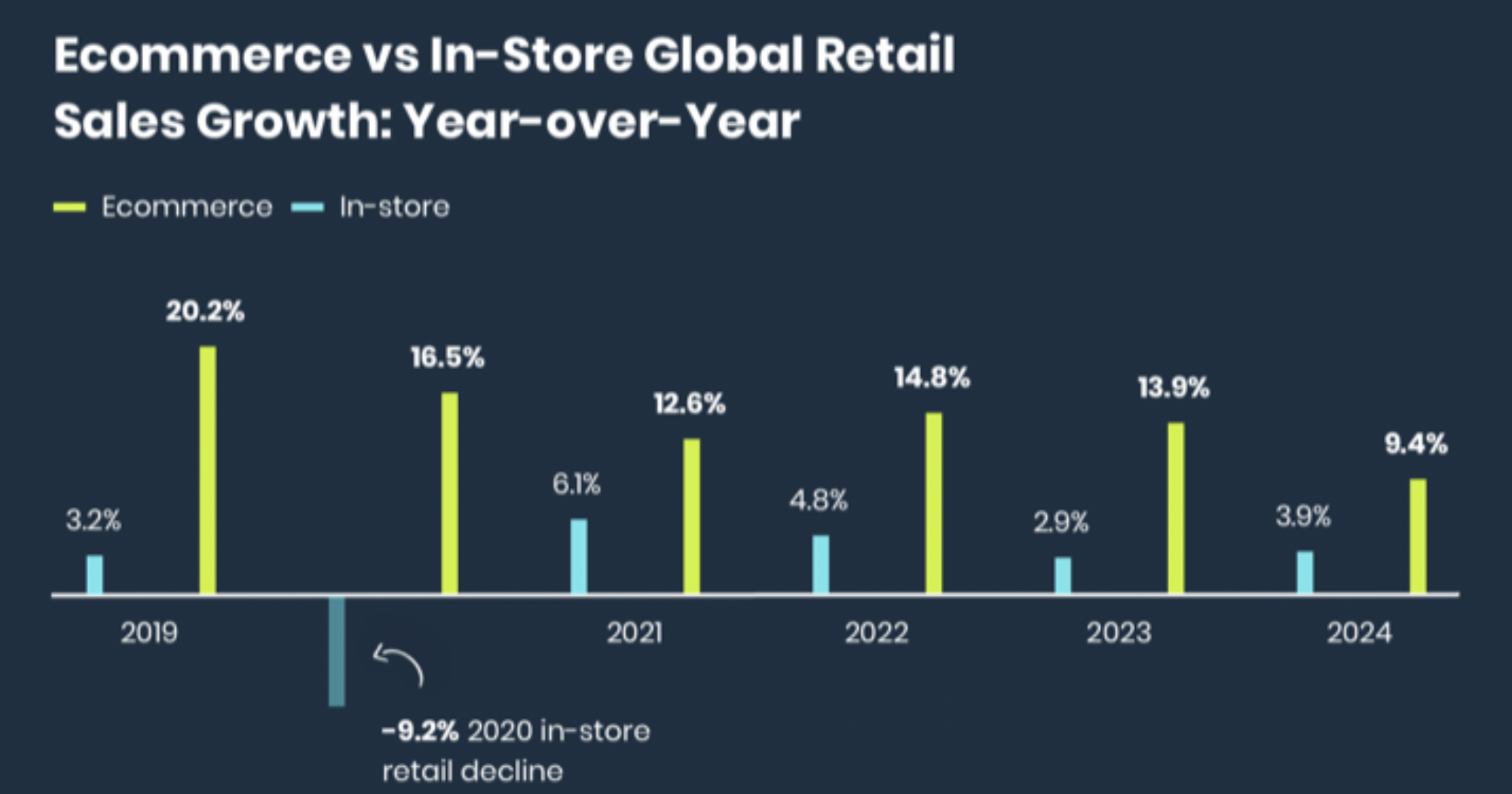 Source: eMarketer
eMarketer's report shows that the demand in retail shopping has seen a massive increase after going back to normal. In today's circumstances, reaching your customers from all angles is the key to success, even in retail. 
The importance of omnichannel retail is that it allows retailers to reach out to all their customers, whether they are at the comfort of their homes or on the go. It also eliminates any need for them to do inventory and focuses on their brand identity and customer loyalty building instead. Plus, when we consider the habits of today's consumers, we see more of a researcher than a consumer; people dive deeper into online marketplaces and e-commerce applications before making an acquisition in stores.
Fifteen years ago, the average person typically only interacted with two touch points when shopping. Today though, they interact with an average of 6 or more. Nearly 50% of people use more than four touch points when shopping.
That's why whether you're in retail or e-commerce, giving your target audience more ways to reach and interact with your brand is more essential than ever, and as mobile devices gain a more significant part in our daily lives, investing in m-commerce is the best way to go.
New Habit of the Snapchat Generation: Social Commerce
One of the most exciting revolutions in the e-commerce arena is happening on the social front. After investments by Facebook, Instagram, Snapchat, and Tiktok in their online marketplaces and tap-to-buy options, online shopping has taken a new turn. Only in a couple of years, social commerce has seen a rapid increase in demand.
Facebook's report on social media commerce reveals that 54% of Instagram users prefer to make an acquisition after seeing the products on Instagram.
Especially for the younger demographic, social commerce has a vast potential to take over other online shopping channels, especially for the younger demographic. The Influencer Marketing Factory's detailed report reveals that 97% of Gen Z shoppers use social media as their main source of shopping inspiration, and 40% of them follow their love marks on Instagram or Facebook.
So, integrating your online store to social media platforms like Instagram and Facebook is crucial to reach a broader customer base. Of course, like anything else, social commerce comes with its own set of rules, and the first rule is to build a solid social media presence that speaks the same language as your consumers. 
Apps are the Future of E-Commerce
Like everything else on the globe, shopping is leaning towards mobile every day, and apps are the best tools to offer a seamless shopping experience for customers with extra advantages for your brand. The good news is, building an app does not require hiring an IT team and months; we have a pretty quick fix for the needs of e-commerce businesses. Our no-code app builder shortens the process of getting into your customers' mobile phones by months! With Mowico, you can carry all of your online store presence into a mobile app in under an hour. And all of the cutting-edge technology trends in e-commerce that we mentioned above are ready for your mobile application on day one. 
With an e-commerce app that you build via Mowico's extremely easy-to-use drag & drop no-code app builder, you can have a mobile app within hours, integrate your e-commerce site to social media platforms like Instagram, and even offer your customers an AR shopping experience! Try Mowico today, and see how easy and fast it is to carry your e-commerce presence to mobile yourself!
Was this article useful?
Let us know if you liked the post. That's the only way we can improve.