E-commerce has been the hot topic for the sales revolution for a couple of decades, but talking about it like a booming trend does not suit today's digital climate. We're all aware that e-commerce has long become the mainstream; today, we have a new popular kid on the block: M-commerce. And it's opening new and exciting paths for its older brother, e-commerce, in many aspects. 
M-commerce has become one of the most popular terms in the commerce arena after the smartphone boom. On paper, it is still a branch of e-commerce, but the tool here is mobile devices like smartphones and tablets. Nobody can say that the rise of e-commerce was slow and painful, but in the case of m-commerce, it's happening as fast as lightning. With faster connectivity, bigger screens, and more convenient mobile payment tools, m-commerce is taking over the crown of e-commerce quicker than anybody had anticipated. The biggest reason is, of course, our new limbs: smartphones.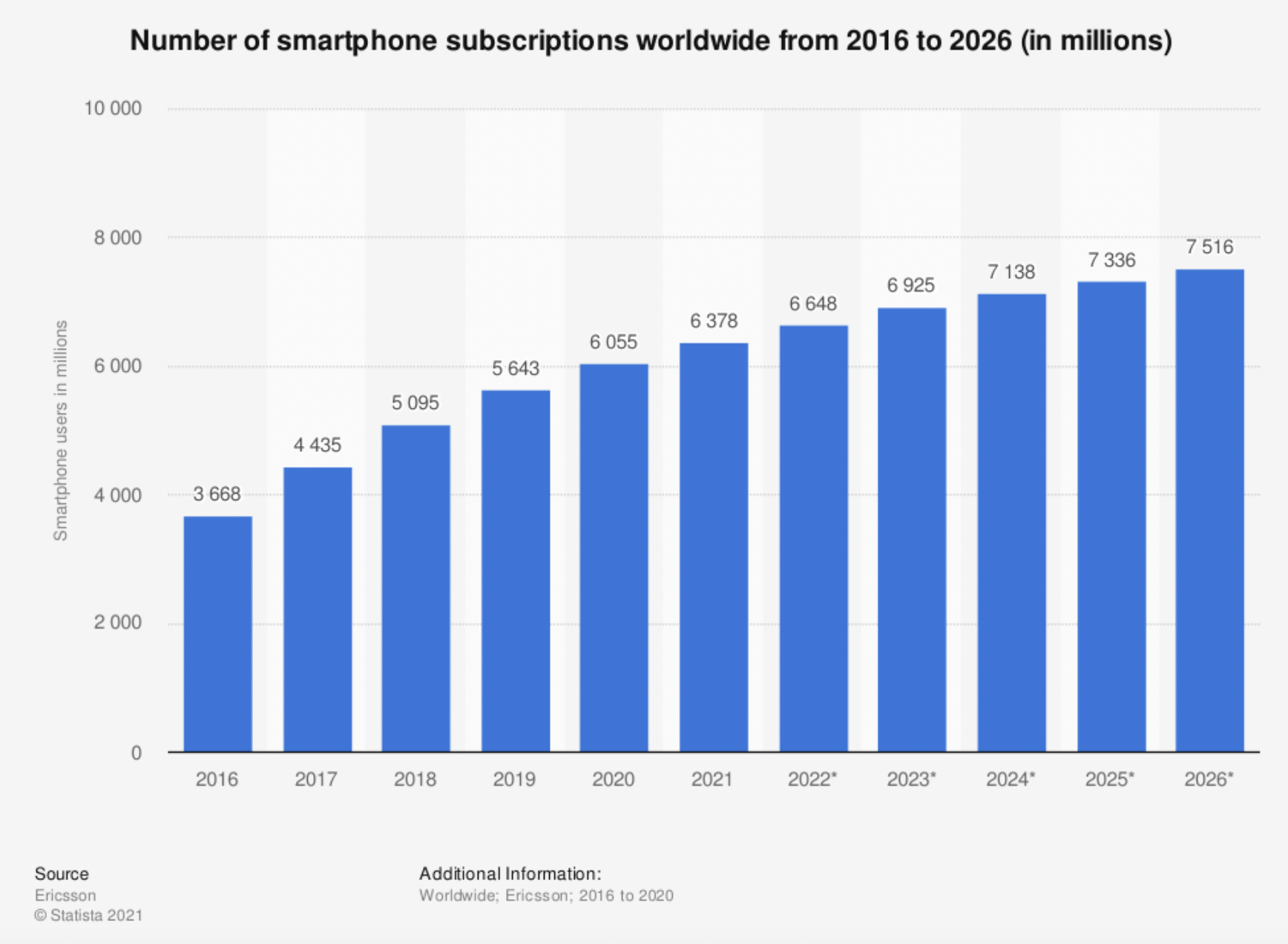 Source: Statista*
The chart above shows the rise in the number of smartphone users with a near-future forecast. We can see that it's very soon that global smartphone adoption will reach its limit, leaving computer screens in the shadows for billions of people, at least for everyday tasks. 
It's clear that phones will take a more significant part in our lives, but you may still be thinking that the shift to mobile in terms of shopping has a long way to go. Frankly, it's already come to a point where there's no turning back.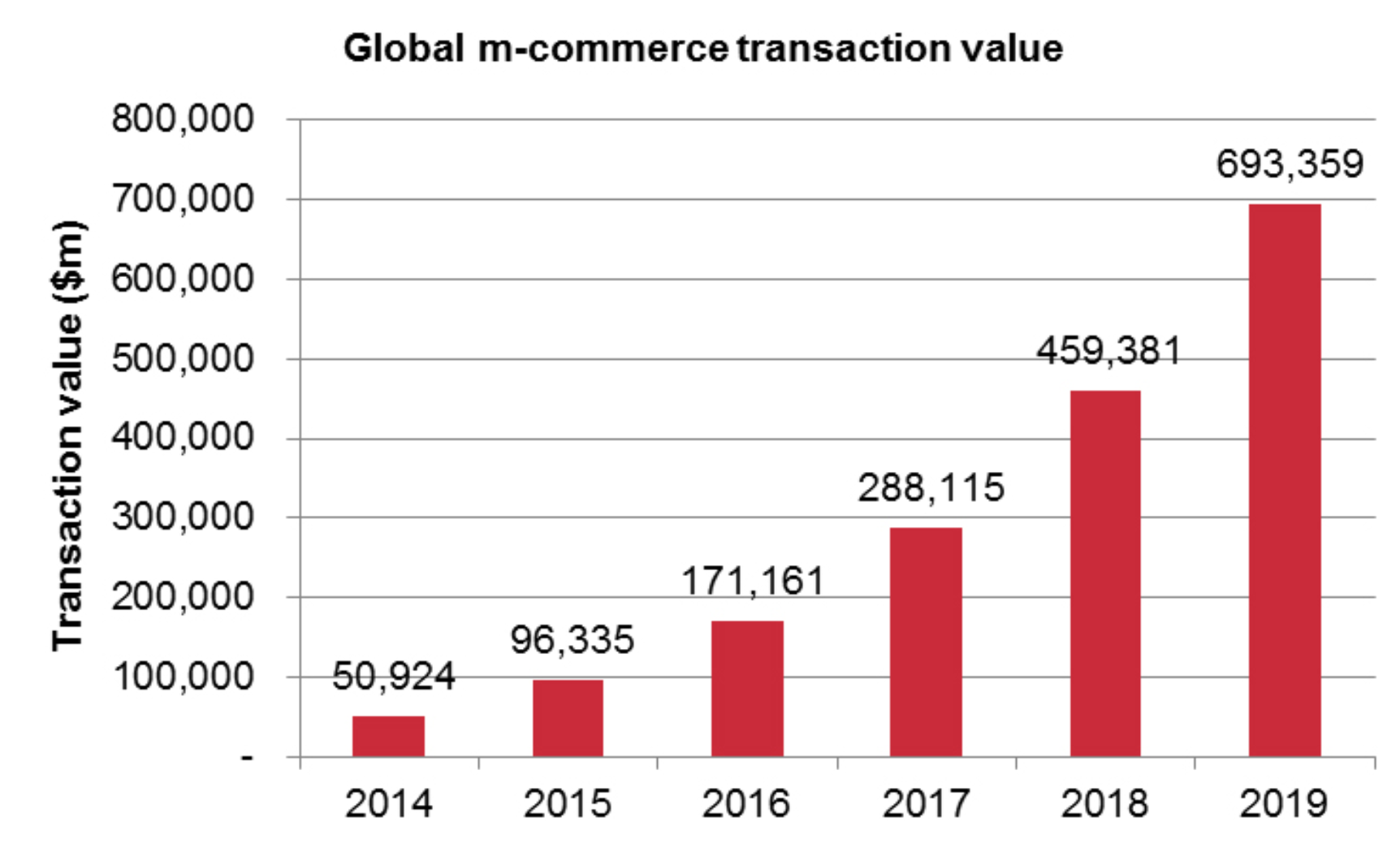 Source: Mobile Payments World**
Above, you can see the crazy rise of global mobile commerce transaction value by years, and with every year, the number almost doubles itself. There are many reasons behind the shift to mobile shopping for both the customer and the seller. Here are the topmost advantages of m-commerce.
The Advantages of M-Commerce
M-commerce has many advantages over other forms of e-commerce, such as speed and convenience. Just like in online shopping, one can look at a product on their mobile device, buy it from the same device, and have it delivered to them in a couple of days or less. And they don't even have to sit in front of a desk! 
Another big pro of m-commerce is eliminating the payment process as it links directly with the customer's bank account information. This is a plus for both the end-user and the seller—thank you, impulse shoppers.
But the most significant advantage of m-commerce is its immense reach. According to Business Insider, mobile commerce will become almost as massive as e-commerce by 2025.*** So, taking place in the mobile world today is essential for growth. On top of that, offering your customers an application that they can shop easily brings extras that are guaranteed to exceed your expectations in terms of profitability. Here are three reasons why:
Deep social media integration: You may be thinking about what's coming after m-commerce, and our answer is definitely "social commerce." For a couple of years, major social media companies have been making improvements to their app interfaces to turn them into one-tap marketplaces, and looking at the numbers; we can safely say that they are on the right path.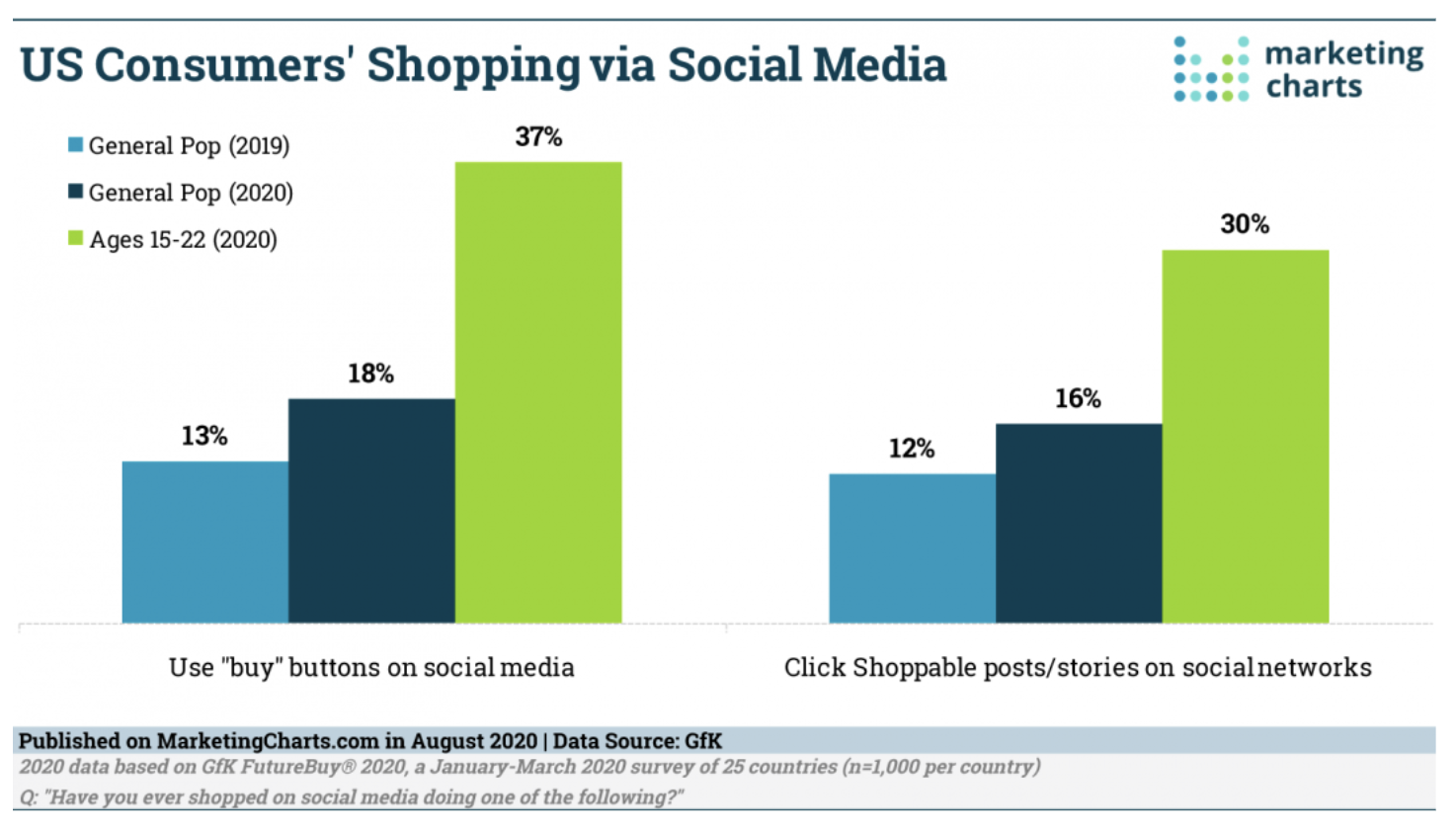 Source: MarketingCharts****
With an e-commerce application of your own, you can easily integrate your online shop into new-age marketplaces like Instagram and Facebook, which automatically puts you in a position where you can reach the younger generations in places they love the most. 
Catch your customers' attention with push notifications and in-app messaging: One of the most significant advantages of m-commerce is that you can reach your customers anytime you need. With push notifications, which have an open rate of 72% in e-commerce apps, you can send from your app, your target audience can hear what's going on with your brand in the palm of their hands. Even better, when a potential customer opens an app, you can lure them into the checkout screen with automated in-app notifications and messages!
Shortcut to affordable marketing: There's no doubt that marketing is the key to success in e-commerce, but building a target audience that's after what you are selling can become more challenging and pricey than you had anticipated. On the other hand, an e-commerce application comes with its own customer base since anyone who has your app downloaded already loves what you're selling. With an m-commerce app, you can target the right people by segmenting app users by age, gender, and location. Even better, with Mowico's geofence tracking feature, you can create location-based targeted campaigns. In the end, you get the best-case scenario of a personalized marketing strategy. 
Here's the Best News: You Can Build Your E-Commerce App In Hours!
In a world that's hooked on mobile devices and there's an app for anything, taking the importance of m-commerce for granted is simply a mistake. But don't worry! If you're in e-commerce, we've got some good news for your next step towards mobile commerce, and we promise it's going to be easier than you think.
With Mowico, you can carry your e-commerce to mobile within hours, and the best part is, you don't need to know how to code; not even the slightest! Mowico is a no-code app builder that's designed specifically for businesses in e-commerce, so you get the best features that lure more customers and, naturally, more profits. The reason why it takes a couple of hours to build an e-commerce app with Mowico is that it synchronizes your e-commerce site to the app and carries the entire content to the app. The rest is a drag and drop process that's as easy as posting an Instagram picture! Plus, you don't have to worry about compatibility since Mowico works with more than 35 e-commerce platforms. See what you can do with Mowico on our website, or start your free trial now!
Was this article useful?
Let us know if you liked the post. That's the only way we can improve.