Do you remember when you first got a smartphone? Probably some time in the past decade? The one thing we can say for near certainty is that if you're reading this article, you almost certainly DO have a smartphone (even if the screen might be a bit cracked!). We know this because you're just one of 5.2 billion others with a mobile phone. For point of comparison, the global population is just south of 8 billion at the moment.
But like those other people, you probably use your mobile phone more now than you even did when you got your first smart phone! In the early days when it was a novelty and data was more expensive and slower, like the rest of us you probably just used it for work or for odds and ends. Now, forgetting your phone at home is a greater catastrophe than forgetting the keys. All of this is why the global share of mobile commerce in e-commerce has increased to 72.9%, up from just over 50% 5 years ago.
In fact, it's not just that almost e-commerce is done over the phone, it's that more and more retail of any sort is done over the phone: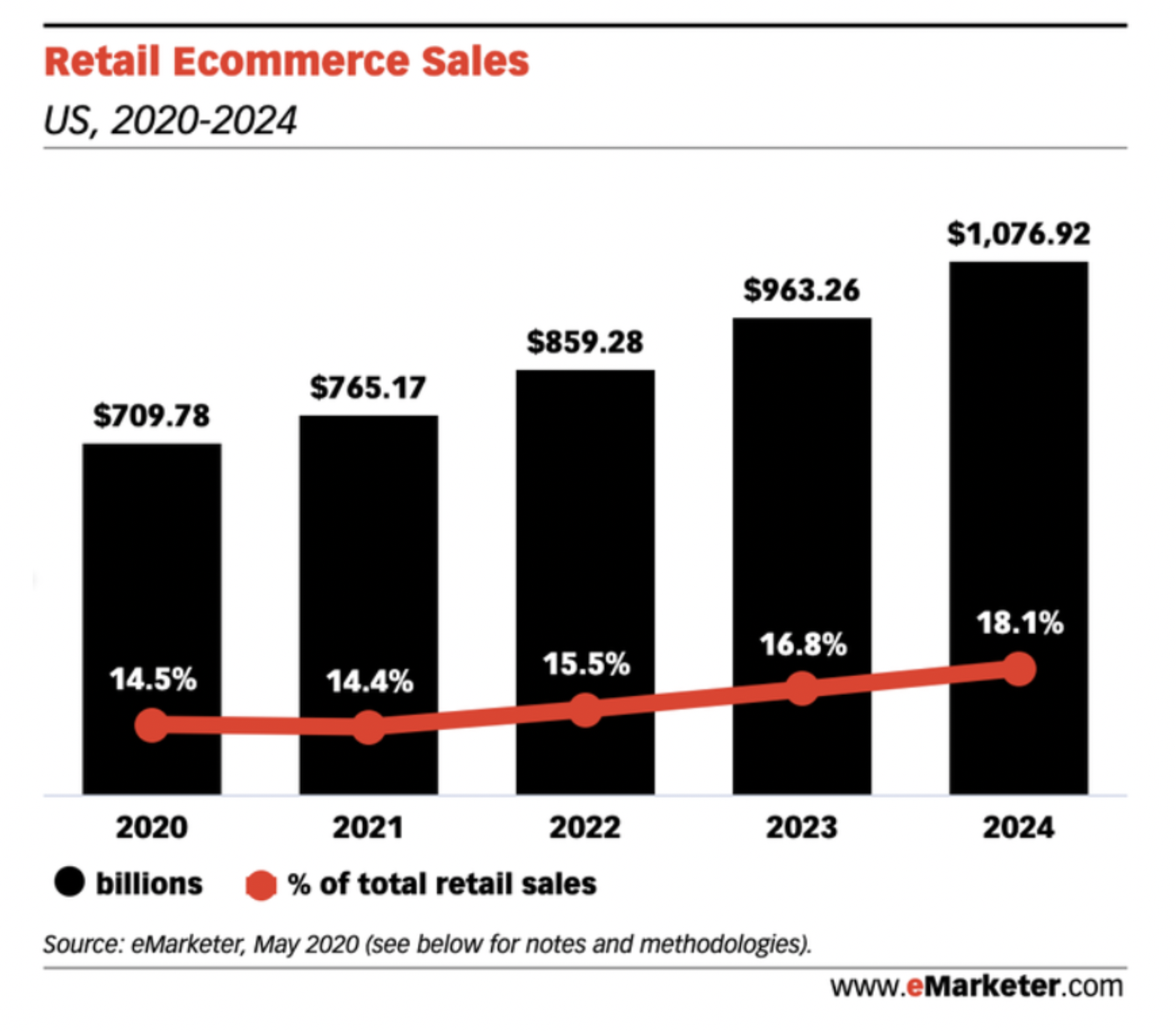 As you can see, nearly 20% of all retail sales are projected to come from ecommerce within 3 years. This means that almost all successful businesses in the near future will feature an ecommerce app.
How to tell if your business in particular really needs an ecommerce app? Or if it doesn't.
Well, as we've said, within the next few years probably every single business needs to be thinking about an ecommerce app, given the way people use their phones to do more and more of their shopping. But in particular,
If you want to expand your audience, then an ecommerce app is critical. If you're not looking to expand your audience – maybe you have a small-scale business that's already maxed out to what it can handle – then perhaps your business doesn't need an ecommerce app. Yet.
If your physical store's location is the cornerstone of your business and you're not interested in moving beyond that, you might not need to hurry up with an ecommerce app. Yet.
If budget is an issue and you don't know how to build an app for free, or how to build your own app, or know about the exciting developments in app building software… well then it's

time to learn!

Essentially no code app builders have gotten better and better in the last few years, to the point where they're basically as good as hiring a team of developers to build an app from scratch. The critical difference is that they cost around ten times less and take something like a tenth the time of a team of developers. But nowadays they can handle anything from apps that require only basic templates, to more complex features. And most of it from a simple drag and drop menu that doesn't require any prior coding knowledge.
Honestly, it's fair to say that there are some businesses that need to build an app more urgently than others, but even if your business falls under the above points (1) and (2), you're still going to need an app soon. That's because:
Benefits of an ecommerce app
Builds Loyalty
Apps mean constant communication with your customers. So you can keep them updated about all the latest deals, offers, or other exciting things going on with your business in a way that just isn't possible otherwise. It's a personalized experience for your customer, with discounts and coupons available and easy to use. Beyond that, an app gives you the ability to offer 24/7 support as a way to further the trust and loyalty you build as a result of a good product.
Builds Brand Recognition
If you know how to build an app properly, you'll make sure that every aspect of the app – from the icon to the logo to the notifications – is build to keep the user thinking about your brand and building a positive image in the user's mind. If you build an iOS/Android app, your brand can reach literally the entirety of the globe with an icon that users see every day as they look at their phone.
Better Conversion Rates
Again, mobile apps let you personalize your content to the user, and to use A/B testing to ensure that changes are optimized to your audience. This leads to higher conversion rates and the ability to keep your users engaged, or reengaged, with your product.
Customer Engagement
Apps produce much higher rates of engagement than more traditional channels like email. The average rate of engagement from

push notifications in apps is 21%,

for instance, compared with 3% or so for emails. Because apps can be more tailored to people's personal usage, engagement is easier and people respond in ways they don't with just a typical ecommerce store.
Data Collection
Finally, the way you can ensure that the first 4 bullet points hold true is by the ability to collect more, better data with ECommerce apps. Every click, every view, everything is an extra data point in an ecommerce app, giving you the ability to really pinpoint what's going on in the customer's mind as they go through their journey with your product. That data then lets you optimize each step of the journey in ways that simply aren't possible if you don't have your own app.
Key Takeaways
The basic facts are that the way the market is going, every business is going to need an ecommerce app at some point in the future. As everyone in the world gets used to using their smartphones on a daily basis, and gets used to using their phones to buy the goods and services they love, companies without apps will be left behind. On top of that, building your own app gives businesses the ability to customize and personalize their product to their users specifically, increasing loyalty, building brand awareness, and improving conversion rates. So ultimately what you do with your business is up to you, but the direction things are trending couldn't be clearer.
Was this article useful?
Let us know if you liked the post. That's the only way we can improve.